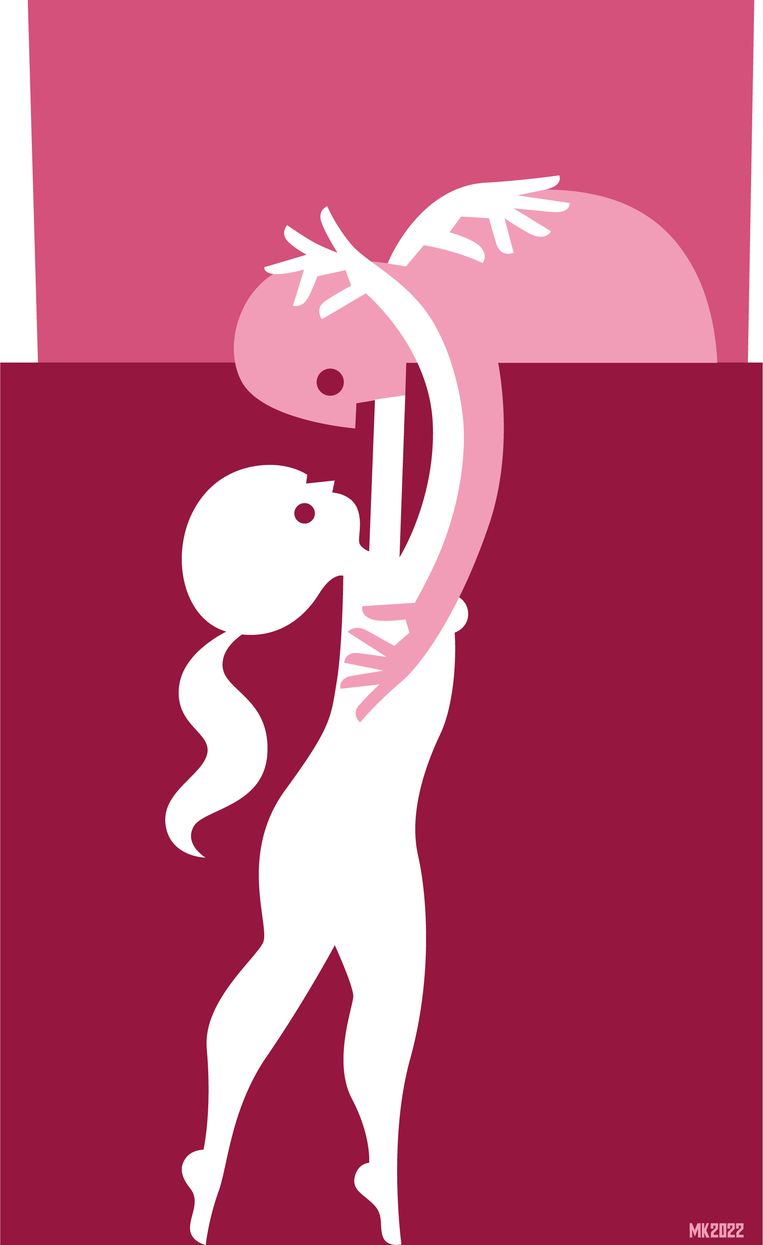 Bram (73): 'I got to know her years ago through her mother, with whom I had a relationship. She was studying the same field that I was teaching at another university and she wanted to spar with me, stimulated by her mother. I invited her to my home. Already at the door I was blown backwards by how beautiful she was, how melancholy.
She was the kind of person you only meet once in her life. She had long blonde hair and her light blue eyes had a sadness that I could not quite place. She talked to me without saying much about herself and I understood her. She had an almost magnetic presence that made the attraction between us high. As a father, I asked what she had in mind, and she answered politely, but I noticed that she was not quite there.
Her concentrated gaze and the feverish glint in her eyes made her a stranger in her own life. It was touching how she struggled to find herself on my couch. But I could not get around it. After a while, I decided to name it: your eyes give a signal you are not happy. And she said, It is true, how do you know?
Double relationship

It became the biggest crush ever. Of course, I knew well what effect it can have when an older man says to a young woman on the hunt: I have found out about you. To put it in the heteronormative jargon of my generation, women provide sex for communication, men provide communication for sex. Incidentally, those were her words much later.
I saw her, but she saw me too. Still, it sounds too flat to me, what happened here was anything more than just a game of seduction. Right after she left the next morning, I called her mother, "Esther stayed here tonight, I want to tell you." "Yes, I know," she replied. 'I know her.' She was not jealous, she was a woman who later in life had realized how wonderful free love can be, and had decided not to let anything scare her anymore.
After that night, Esther and I both returned to our lives, I as a professor and friend of her mother, she 200 miles away as a student and friend of a young man. Then followed a period where I had a relationship with mother and daughter at the same time.
I saw them take turns, which none of them seemed to mind. They knew exactly when each other was here, there were no secrets, and I considered them both at least as skilled as myself to say: well, that's enough, hurry up, we'll stop. In the end, it was Esther's friend who could not handle this double relationship. We stopped because it gave too much swell.
dependence

Four years later, on September 12, 2012, the phone rang around midnight. 'I've been trying all these years to forget you, but I can not, so I thought: I'm just calling,' I heard Esther say. I suggested that this might be a momentary hint, which was fine, and if it had any lasting significance, we would notice it.
Exactly two weeks later, on the Day of Atonement, she contacted them again. I read: how were you after I called you? And this time, I thought, maybe it was not her whim anyway. My relationship with her mother, meanwhile, had ended in a very natural way, as if we had found what we were looking for in each other, after which the interest had subsided. Or maybe she was just tired of me, I never asked her.
Shall we make an appointment ?, Esther concluded her message. When can you ?, I wrote. Saturday, she wrote back. And so the love, which had lain dormant for years, began in earnest in that moment.
She quickly became my addiction, I had never known anyone so physically overwhelming, so satisfying. But the price I had to pay for it was high. She argued for nothing, was deeply offended when she thought I regarded high school as the chosen ones (she herself had been high school), and harassed me for hours until I had to get angry and leave, after which the flatterer from started from the beginning, and I went back slavishly.
Twelve, thirteen times I looked up, but every time she called again, I changed my mind like a magician. I loved her, had I ever met a woman who was so beautiful and wanted to be known by me? Did we not have a unique, intense relationship? Okay then! The sex was so good that I was willing to suffer every day for it.
intolerable

She saw in me her eternal great love, she would be enchanted. Jealousy spoiled her happiness. She envied the former colleague who wrote to me how I was feeling, and envied the laconic nature of my old age, something she lacked as a student on operations. The smallest thing disturbed her.
Everything I had seen in her eyes years before, the night she sat on my couch, was true. I could not take her grief away. Strong connections, hundreds of messages a day, emotional reconciliations with the very best sex, soulmates or whatever you want to call it – nothing could facilitate her expulsion.
She was not grounded, the world did not touch her. It drove her to despair. Once she climbed out the window, hung on the frame with both hands, and I asked her to crawl back. That night I realized I had to let her, my beautiful boyfriend, who was more dear to me than good to me, end the relationship.
It was six years ago, I have not seen her since. She has moved to the other side of the ocean. She found the idea of ​​not being together, but living in the same country, intolerable. '
At the request of the interviewee, the name Bram has been changed.
Want to hear more of these stories? So listen to our podcast The love of the moment†
CALLED

For this column and the podcast of the same name, Corine Koole is looking for stories about all kinds of modern conditions, about people of all ages and all preferences.
Take part? Mail a short explanation to: deliefdevannu@volkskrant.nl.