After a period of ever-larger homes filled with luxury and comfort, the counter-trend is also emerging in housing recreation: Less comfortable homes with basic facilities – often located in a beautiful natural environment – and with full attention to sustainability.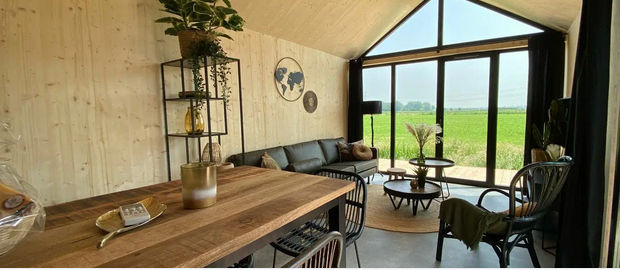 On Tuesday 5 April, Pleisureworld Praktijkdag organizes Ecolodges, Woodies and Tiny Houses at RecreaPark in Kesteren. If you want to know what the driving force behind the success of these compact accommodations is, it would be wise to attend this day. Different speakers, each based on their own expertise, will explain the success factors.
Hans van Leeuwen from Pleisureworld travels the world as trendwatchers in search of new developments. Why does he expect further growth in this market segment? Van Leeuwen: "In recent years, we have seen the emergence of Glamping – luxury camping. One disadvantage of camping is that it is very seasonal. The new compact forms of accommodation can be operated all year round and are therefore more attractive to the operator as a rental property. Another factor is that the Tiny Houses movement is also conquering a place in 'normal housing'. A Tiny House in a holiday park is an excellent opportunity to get acquainted with the feeling of 'basic living'. "
Father and son Thomas and Jan-Pieter van der Zwaan has known the cottages for many years with their interior design companies RecreaPark and Interiora (luxury segment). A home decor has a very personal view of the decor of a cottage. This is one of the reasons why they have now started to develop their own series of modular holiday homes: RecreaPark Modular† Thomas van der Zwaan believes that architecture and interior design must be in line with each other. On the practical day, he will explain which facets of a Tiny House ensure a well-rentable, comfortable and cost-effective concept.
The campsites in Browse Dune Campgrounds, located in Hollandse Waterleidingduinen, they have been a textbook example of sustainable development for years. They also respond to the trends in Tiny Houses. Manager Willemieke de Waal has houses in the park made of recycled plastic for the coming season, developed in collaboration with the company Save Plastics. On this day, she shares her expertise in Good Green Living. – The basis of the Tiny House trend.
We also have an architect on stage this day. Erik Prins is the creator and developer of cabin ANNA† This is a dynamic wooden hut, an open platform where the connection is central. It is precisely the aspect 'connection to nature' that is a core value in the new trend of compact holiday homes. ANNA's design has attracted international attention and the design has received several international architecture awards.
Dutchen is an innovative developer of high-quality holiday parks in the Netherlands. Good development sites in the Netherlands are becoming increasingly sparse and smaller. You can still mark yourself in the market with new innovative concepts. Dutchen does this, for example, with a new small Eco Resort in Landsmeer. The Dutch director Xander van Rijswijk explains how the Tiny House concept has also taken hold of Dutchen.
Richard Otten is one of the first experts to recognize the Glamping trend in the Netherlands and created the website www.glamping.nl to provide an overview of this development. How does he view the trend of compact holiday homes? Are there any similarities with Glamping? Or is it a complete counter-trend? Otten shares his vision and is open to questions.
During the breaks in the program, it is also possible to get more information from different exhibitors. Current includes:
tent 2
prefabricated house
Leisure park
Leisure Park Modular
Van Leeuwen Recreation – boats
Van der Garde garden furniture
Avanti kitchens
The Practical Day is an afternoon program and starts on April 5 at 13.00 at RecreaPark in Kesteren. All participants receive Trendspecial – Glamping (R) Evolution† The most complete overview of unique 'accommodations' with background stories from practice.
More information and registration: www.pleisureworld.nl/praktijkdag-ecolodges-woodies-tiny-houses