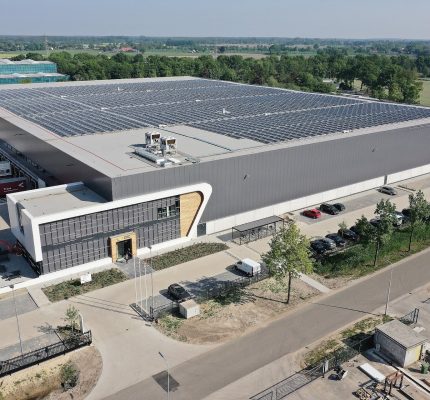 BigMile, a provider of software for calculating and analyzing transport-related CO2 emissions, announces that Moonen Packaging has chosen DeliveryMatch and BigMile. "We now have one portal, to which all our carriers are connected, and which gives us insight into our transport-related CO2 emissions," says Roland van Bussel from Moonen Packaging.
Sustainability has been a significant driving force in all of Moonen Packaging's activities for years. With a view to a sustainable future, the specialist in sustainable packaging not only looks at the ecological footprint of its own business operations, but also aims to reduce CO2 emissions throughout the chain. "Our goal is not only to be a frontrunner in sustainable packaging solutions in Europe, but also to function as a minimum of CO2-neutral downstream in the chain by the end of 2026. Sustainable logistics play an important role in this," reports Roland van Bussel, operations director at Moonen Packaging.
The transport at Moonen Packaging is diversified to different transport partners, each with its own specialty. 'Visibility is becoming increasingly important to provide insight into CO2 emissions and to influence the chain partners both downstream and upstream. Ultimately, what we want to achieve is that our customers will soon be able to make a decision for their deliveries that is not only based on cost and delivery time, but also on the basis of CO2 emissions, 'says Van Bussel.
Strategic, tactical and operational level
The collaboration with DeliveryMatch and BigMile contributes to more sustainable logistics on various fronts. 'With DeliveryMatch's chain platform and the coupling to BigMile, we can calculate the CO2 emissions for each transport stream down to the shipping level. The amount of CO2 emissions per shipping is then printed on the delivery note ', Van Bussel explains.
At a strategic level, Moonen Packaging can see the bigger picture through the analysis tool. "In our own portal, we can look beyond all carriers and gain insight into our total transport's CO2 footprint. For example, we can see if it is more economical to bundle a shipment and / or move it to a specific day. Our sales people then use this information to continuously motivate our customers to place orders more consciously. '
Roland Slegers from DeliveryMatch adds: 'The data from DeliveryMatch form the basis for the calculation of CO2 emissions from BigMile. The unique combination of data traffic and control with the DeliveryMatch platform gives Moonen Packaging insight into CO2 emissions. The great thing about this is that reducing CO2 emissions often also goes hand in hand with cost savings. After all, by monitoring and managing the chain, is the operation first time right This immediately saves both CO2 emissions and logistics costs. In addition, it is possible to control the use of the logistics chain in the low season – storage and transport – which also helps to reduce CO2 emissions. '
Choice DeliveryMatch and BigMile
Regarding the choice for DeliveryMatch and BigMile, Van Bussel says: 'We were already familiar with BigMile from the Lean & Green program, where we achieved the third star and belong to the front-runner group for the fourth star. Many types of analysis and reports can be made in BigMile. When we heard that DeliveryMatch should be integrated with it, the choice was made quickly. '
Versatility
According to Jan Pronk, CEO of Benelux in BigMile, the collaboration is a good example of how Moonen Packaging as an end user is able to reduce the CO2 footprint at a strategic, tactical and operational level. Pronk: 'Thanks to the interactive analysis tool BigMile Carbon Analytics, Moonen Packaging can periodically analyze and adjust its transport chain. In addition, Moonen Packaging has a central source system with Order, Transport and Shipping Management System (OTSMS) from DeliveryMatch, where all transport-related CO2 data is recorded. '
By integrating the BigMile Emission API, CO2 emissions are automatically calculated at the operational level for all shipments. This applies to both incoming and outgoing transport flows. 'An additional advantage is that the CO2 information can also be processed, for example, on freight documents or invoices. Something that in the future will be part of the overall order flow within logistics. In this way, the versatility of the BigMile SaaS platform is maximized, "says Pronk.
About Moonen Packaging
Moonen Packaging is a leading packaging wholesaler with more than 65 years of experience. Through passion and ambition, we have grown from a small packaging company to an innovative packaging specialist. We think together with our customers in the design, management and distribution of food and non-food packaging, packaging materials, disposable items, cleaning and hygiene products. Every day we deliver these to our customers all over Europe, especially in the retail, food and industrial sectors.
As a chain director, we apply a sustainable packaging policy. Together with our relationships, we take advantage of the opportunities to save. So you can benefit from maximum savings for your organization and the environment.
www.moonenpackaging.com
About DeliveryMatch
DeliveryMatch has the most advanced order, shipping and shipping management software (OTSMS) worldwide and can do more than any other comparable software. Our logistics software calculates the entire logistics chain for each order in real time for the most suitable shipping and delivery options. You can also easily organize and manage all your logistics with the delivery software DeliveryMatch, from the checkout to the doorbell. Expensive peaks and lows in order processing are a thing of the past, as are high transportation costs. In addition, your revenue increases through our logistics software because the consumer rewards your transportation and logistics service and its reliability.
www.deliverymatch.eu
About BigMile
BigMile in Maarssen is a calculation and analysis platform with which logistics providers and shippers can optimize and report on the multimodal transport-related CO2 emissions from their transport: pr. customer, pr. logistics provider, pr. shipping or per. region. The SaaS platform is suitable for companies with a regional or urban coverage area as well as for globally operating multinational companies that use different modes of transport. There are already more than 200 users of BigMile, including companies like BSH, Ceva, DHL, Driscoll's, DPD and Ricoh.
BigMile originated in 2019 from Top Sector Logistics and Connekt and has been an independent operating international company since the summer of 2020. BigMile is an SFC Accredited Partner in accordance with the GLEC Framework and ISAE 3000 certified. In addition, it is a strategic partner for Lean & Green in various countries. There are also collaborations with various industry associations, such as Thuiswinkel.org and Evofenedex.
www.bigmile.eu
This article is a submitted message and is not the responsibility of the editors.