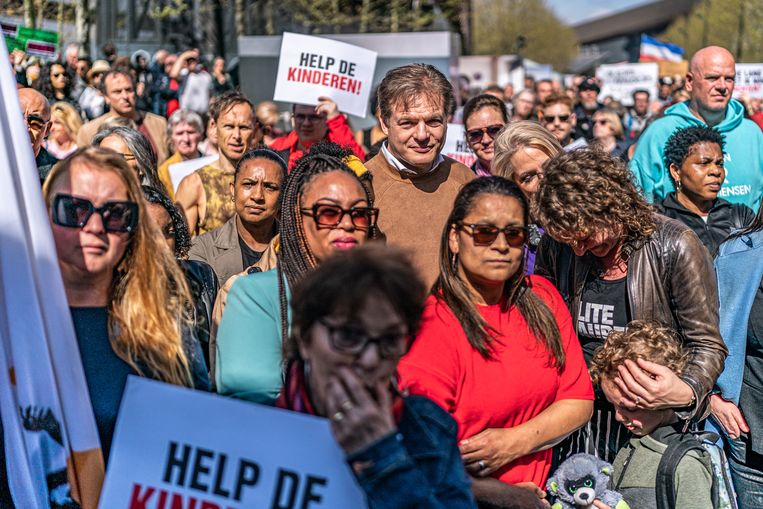 In the first five weeks, 77 parents reported that their children were removed from the home to the special support team for victims of the benefit affair. Following pressure from the House of Representatives, extra help has been arranged for this particular group since 4 April. Since 2015, 1,675 children of foster parents have been placed outside their homes, Statistics Norway informs on Wednesday.
It is a subject that arouses a lot of emotions, inside and outside politics: in addition to getting into debt due to the unjustified recoveries from the tax authorities, these parents were also told that their children were no longer allowed to live at home with them. 'It is striking that far from all parents who approach us say: bring the children back tomorrow,' says project manager Judith Peeters from the support team. "Many parents, for example, will first work to restore contact with their children. Or they primarily want recognition of their suffering. '
Hold without mandate

The so-called process supervisors in this support team listen to the parents' story and then get started, for example by arranging a meeting with the Youth Guard about their case. They often hear shocking stories. One of the mothers who stepped forward told how the tax authorities' claim caused her to lose her home first, and then her children. She is still homeless. She said no one had bothered to listen to her story before.
An important caveat: the team does not have the power to roll back youth protection measures. To do this, the process supervisors must call on the Youth Protection. The latter could then prepare an adapted counseling, after which the juvenile court judge would have to make a decision.
'Some parents do not join us because they say: what good is a team without a mandate?', Says Nicoline den Ouden, coordinator of the process leaders. "Or they are not sure that we are independent of, for example, the Youth Guard. We are. It is certainly our goal that children go back to their parents, even though it will not happen to all children. Then, for example, we try to restore contact between parents and children. But a lot of children go home, I'm convinced of that, otherwise I would not have started this.
In the middle of the process

They already notice, they say, that the youth welfare organizations are open to discussions about the issues in question. But letting children return is not that easy, they stress. 'We've been working on it for five weeks now, something like this does not happen overnight,' says Den Ouden. 'It's intense processes. And if we can now ensure that a child can go home, then it will also happen gradually. For example, a new school must be found. '
That is why the parliamentary debate on deprivation of liberty and foster parents this Thursday is too early for them. Peeters and Van den Ouden feel the political pressure and tension on the subject, they say, and they understand it. They taste the impatience. They know that those involved want results to be achieved quickly. Den Ouden: 'We had been busy for less than two weeks when the question arose how many children could go home because of us. We are still in the middle of the process with many parents. '
For them, the results are also different than just returning children to their parents. Peeters: 'We also offer a listening ear. Many of these parents are injured, experiencing trauma and feeling unheard of. We also offer emotional support, which is also important. '
Den Ouden: 'Some parents who signed up for us threatened to be thrown out. We help prevent that. Or we try to arrange treatment for their trauma. These are steps that must be taken before the ultimate goal can be seen: the return of the children or the re-establishment of contact. '
'It's probably going to be a lively debate,' Peeters says. 'In a few months we can show what we have achieved, I am convinced.'