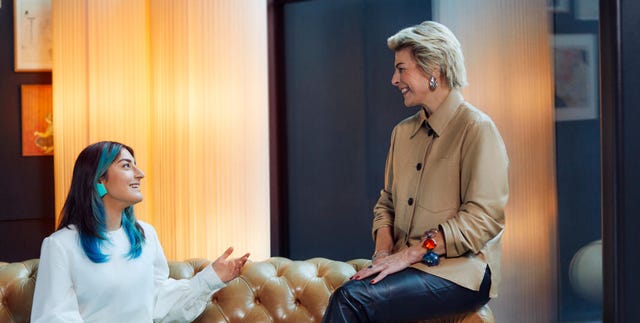 Harper's Bazaar / Violaine Chapallaz
Who do you see as a dream tutor or as a dream student? In Harper's Bazaar's second edition of the year (order now!) An interview for the column Mentor & student with the young impact maker Fahima Elmi and the hero Princess Laurentien. One thing is clear: they will primarily learn from each other. Princess Laurentien: 'It goes without saying for me: I have a little bit of knowledge, you have a little bit of knowledge, and together we can make progress.'
Interview Princess Laurentien & Fahima Elmi
While a storm is raging across the country, Princess Laurentien (55) and Fahima Elmi (20) meet at a hotel in Amsterdam. The princess is here at the invitation of Fahima, who wants to tell about her social commitment – because she has it herself. Young as she is, the student of interdisciplinary social sciences has for years, through various organizations, worked to improve the situation of children living in reception centers and make their voices heard. In 2017, she was nominated for the Children's Peace Prize. She hopes to learn a lot from Princess Laurentien, who initiates unexpected dialogues with her two foundations – the Missing Chapter Foundation and the Number 5 Foundation – between organizations and the people affected by a case, often children and young people. She also works closely with parents and children in the unemployment benefit case to arrive at solutions based on gender equality.
Student Manon van Essen learns the subject's tricks from mentor Heleen Dura-van Oord>
met before
If there is one thing that is clear, it is that they are eager to get to know each other a little better.
Fahima: 'I do not know if you remember, but we have met before. The first time was in 2016, at a conference. '
Princess Laurentien: 'I remember exactly that: in the Fokker terminal. We stood on the stage together. '
Fahima: 'As one of the youngest members of the team, I was allowed to hand over a studio to you. What I will never forget is that you said: " I think it's very important that the children are actually involved in what we have to do. It should not just be a false participation. " It impressed me to hear a senior at such a conference say that we kids really meant something and that we were not just called on stage to deliver something. You also asked questions instead of just hearing our story. '
contemptuous participation
Princess Laurentien: 'I think it's very special that you brought this up and still remember it six years later. It obviously touched something with you. Why is the concept of " false participation " so important to you? '
Fahima: 'Probably because I had noticed it before. I had ideas on how to do more for vulnerable children, was invited to conferences to talk about it, but what I said was often not done that much, even though I came back to it later.
Princess Laurentien: 'This goes to the heart of all my work. It always feels inappropriate for people like you to be put on a stage to tell your story without really listening to you or letting what you say come in. And then think: what does this mean for the current approach? For example, by not seeing children as equals, by listening to them well and by asking questions, we never find out what is really going on and no fundamental changes are made. For me, it goes without saying: I have a little knowledge, you have a little knowledge and together we will move on. That's where our connection lies. For me, the importance I attach to gender stems from the values ​​I learned from my parents in my childhood. My parents were strict, but I think I was taken seriously as a child. How were you? '
Not taken seriously
Fahima: 'I just had the feeling that I was not taken seriously at home. When I was eleven I spent a year and a half in a shelter for women with my mother and I had it there too
idea that things were as they were and that there was not much I could do about it. It was only when I started as a volunteer that I met people who took me seriously. When I was fourteen, I became an active member of the Augeo Foundation's youth task force. I talked to them about topics like child abuse, domestic violence and poverty. At the time, my own experiences at women's shelters were still too fresh to talk about. Seeing the effect it can have on sharing your experiences, I also began to tell my story. At a Female Empowerment event at my old high school, United World College in Maastricht, a woman came up to me and told me she was so inspired by what I had said she really wanted to do something about it. I liked that: that my story not only triggered a feeling, but also led to concrete change. '
Mentor Ilham Mestour about his student: 'Rachel can give me her unsalted meaning like no other'>
Princess Laurentien: 'And then I think immediately, without a value judgment: an obligation to do something is not yet an action. If I had been there, I would have rounded off your question by saying, 'Wow, we'll contact you in a month to find out what you did? It's hard for you to ask about it, it's easier if some kind of "middleman" does it. That's my role in many of the processes I supervise. I'm a kind of amplifier for people like you who are powerful in their own right but need to be heard better. '
Fahima: 'So the last, decisive step towards action has been taken, I understand. As for that equality, then you have a daughter who is more or less my age. Do you also learn from her to do things differently? '
Princess Laurentien: 'I learn a lot from our three children. Tag Eloise. I'm not into social media myself, but she shows me how to be who you are. That you seek and make mistakes is part of it. As a mother, it's exciting to see it happen, but I also think it's very instructive for myself. '
Read more? You can read the full interview with Princess Laurentien in Harper's Bazaar # 2.
SHOP HARPER'S BAZAAR # 2
This content is created and maintained by a third party and imported into this site to help users enter their email addresses. You may find more information about this and similar content on piano.io