It is exactly one year since Sunday that Gerrit Krolbrug was hit by a ship. Twelve months later, there is still no new bridge, and the dissatisfaction and frustration among the local residents is growing day by day.
"There is no participation, the residents are not seen or heard and the Rijkswaterstaat is not interested at all", sighs Chris van Malkenhorst from the residents' association Van Starkenborgh. "It's a haughty club that does what it wants, that goes its own way. And Groningen municipality. He is on a leash, has no opinion and follows meekly. Like the politicians in the city council who in the time after the clash blew their minds. "that a solution should be found quickly. Nowadays they can only say that it is not going well, and that is it."
Collision
Back to the night of 14 to 15 May 2021. The time is around 00.15 where local residents hear a loud bang. As they go to see, Gerrit Krolbrug seems to have been hit by a large ship. The bridge was badly damaged and hung skewed on the turning mechanism. No one was injured. The skipper stated that he had not seen the bridge. The Van Starkenborghkanaal waterway will remain blocked for a number of days, car traffic can no longer use the connection, and cyclists and pedestrians will be guided via the footbridges.
The text continues below the image
Gerrit Krolbrug was seriously injured in the collision. Photo: Rick ten Cate – tencatefotografie.nl
5.5, 4.5 or 3.0 meters high
Gerrit Krolbrug has been a topic of conversation for a while now. The bridge needs to be replaced, and the Rijkswaterstaat would very much like a tall variant, with a height of 5.5 meters, so that ship traffic can continue unhindered. Residents and the thousands of cyclists and walkers who use it every day would prefer a new bridge at a height of 3.0 meters. The municipal council ultimately chooses an intermediate variant with a height of 4.5 meters. In addition, it is made known through various movements that participation and participation throughout the process is very important.
"Rijkswaterstaat no longer wants to participate"
"A couple of weeks ago we had a residents' meeting about Gerrit Krolbrug", says Van Malkenhorst. "Expectations were high because there has been silence on the line for a long time. Rijkswaterstaat does not communicate. However, the preparations for this evening did not go quite as we had expected. Rijkswaterstaat stated that it no longer wants to participate with the residents and that they only want to talk to clubs such as Fietsersbond and Schuttevaer. I then advised them that if you say this in the evening, you will get very emotional reactions. I said, start using other terms and say that people want an opinion. "
"The councilor has said that nothing happens without participation"
About fifty people attended the residents' meeting. "And it was said there that there is little to say about the design of the new bridge. However, it would be possible to coordinate things in relation to waiting areas for cyclists. It made the faces in the room frown. The environmental manager of the Rijkswaterstaat said that work on the preliminary design is currently underway. When it is ready, you can respond to the statement. Yes, and that is contrary to everything that has been agreed. It has always been promised and said that participation would be possible. In fact, the councilor has indicated that nothing will come of it without participation. "
The text continues below the image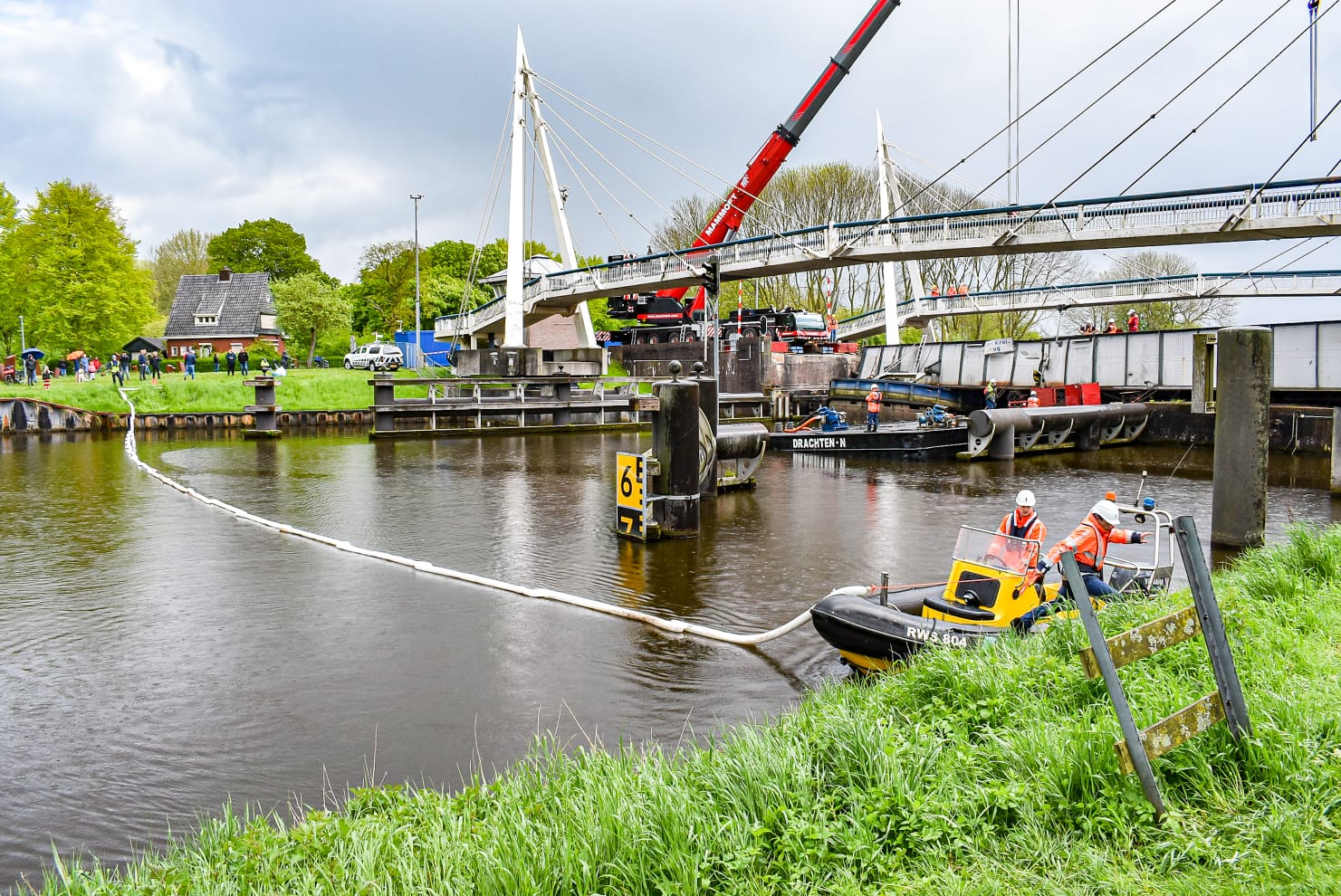 To make the Van Starkenborgh Canal navigable again, the bridge had to be moved to the side with large equipment. Photo: Mike Weening – Weening Photography
"We are put on the sidelines"
The residents' association has now sent a fire letter to the municipality. "We sent these at the end of April. But not a single councilor, official or councilor has thought that I should answer that. Nothing. See. Agreements have been reached. Proposals have been adopted that participation in this project is important. But the residents' organizations are simply put on the sidelines. And that makes this whole project unreliable. Previously, together with eighteen different organizations, we submitted a list of wishes, points of attention and criticism. It was said that it was still too early, "and that these points would not be elaborated during the draft design. This would be done in the preliminary design phase. By now putting the residents out of the game, we can not participate in it."
Actions
Last Wednesday, a walk-in evening was held in Korrewegwijk, where the plans for the new bridge were presented. "There was a van lined up in front of the stage where people could put ideas in. No one has used it because they know what is being done with it. Nothing. "The residents' organizations have the impression that they are indifferent." At the political level, agreements have been made which the Rijkswaterstaat does not comply with. We are now being put on the sidelines. This means that we must start using other means. And I speak in fact, about actions. "