Hard design by Queens Yacht Design Holland
A motor cruiser with electric motor and solar panels: it is Strømsø Electric Folkboat. This durable, affordable pleasure craft of almost 8 meters in length combines. a hard and elegant design with Zero-Emission and a whisper-quiet engine. For the design, Ronald Hagenaar from Queens Yacht Design Holland conducted thorough research in sustainability for boats. This sustainable boat will be developed in collaboration with the Norwegian water sports company Strømsø and will be launched on the market in the spring of 2023.
Haarlem – It is wonderfully quiet and clean to sail with Strømsø Electric Folkboat, a motor cruiser with electric main engine. No diesel engine on board also means no unhealthy and environmentally polluting exhaust gases. With this Zero-Emission yacht, great emphasis has been placed on the use of materials with low maintenance and an efficient construction method.
In the 'basic version' of Strømsø Elektriske Folkebåd, only the necessary equipment is on board. What is not on board costs neither money nor raw materials. The solar panels are recessed in the roof and generate electricity at no extra cost. The efficient propulsion with two steerable electric motors under water makes this pleasure craft a very easy-to-drive boat that anyone can sail. The height of 1.90 to 2.10 meters in the saloon gives a comfortable feeling of space and also makes the boat comfortable for taller people.
Convenient and affordable
Yacht designer Ronald Hagenaar from Queens Yacht Design Holland: "I came to this design because Strømsø approached me with the idea of ​​developing a practical and affordable electric boat that brings the essence of water sports to the people: relaxed enjoyment from the water with sufficient comfort., also for several days or in bad weather. I saw this as a great challenge and a valuable addition for people who like to sail. After 9 months of design and development, Strømsø Electric Folkebåd is now seriously born. "
The calm of electric sailing
Electric sailing is also called 'whisper sailing': An electric motor makes virtually no noise. The calm during the voyage is a relief. Like modern electric cars, this affordable electric cabin cruiser has batteries on board. These batteries provide the power that the electric motor needs to propel the ship. And just like with electric cars, there is a need for affordable and more luxurious models. There are therefore also more expensive versions of Strømsø Electric Folkboat. These are suitable for people who want more luxury, or who use more power because they like to go on longer trips, or who prefer faster sailing. There is also a special version for people who like sport fishing.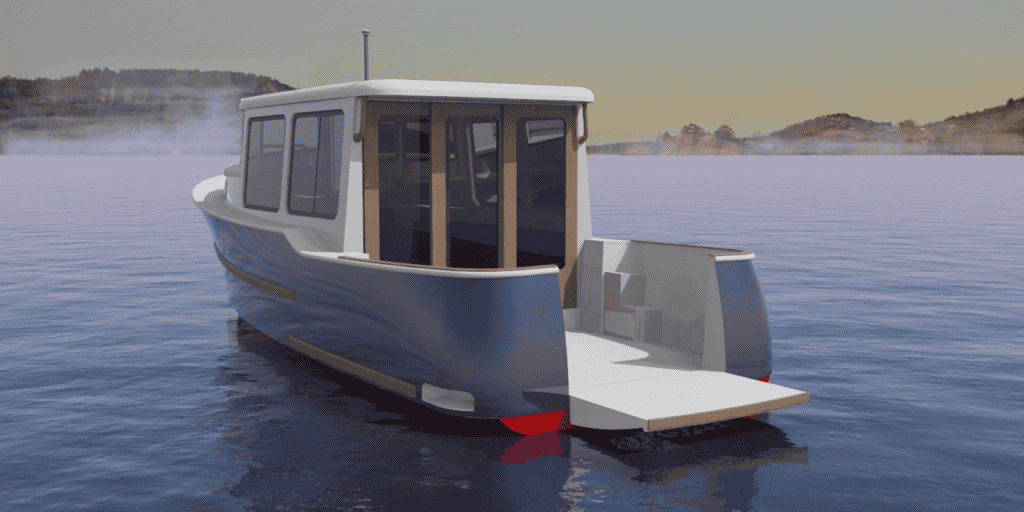 Layout of the electric cabin cruiser
On board Strømsø Electric Folkboat you can enjoy the view while you grab a snack or drink in the kitchen, relax on the sofa or steer the ship. The spacious aft deck has a bathing platform and extends through sliding doors to the steering position on the same level. The kitchen and dining area in front of the helm are one step lower. Another step lower in the front of the yacht is a separate sleeping area with a 2.20 m long double bed and a separate toilet room. The cozy dining area can easily be converted into a double bed. Two hammocks can be hung up, giving a total of six beds. The first boats will be delivered in the spring of 2023.
more information: queensyachtdesign.nl
This post was posted by the news service Nauticlink. If you have any questions or comments about this message, please contact us at newsservice@nauticlink.com or leave a comment below. You can also pass on press releases and news tips to our editors. More information about this can be found on our news service page.