ZEEWOLDE – Almost nothing can be seen to the dull gray wall in the alley between fish specialist Chris Koelewijn and FlevoMeer Library. With the works of art currently used by various Zeewolder artists, the wall is slowly but surely becoming a real eye-catcher.
It was also the goals of the initiators Wilco van Leeuwen, Chris Koelewijn and William de Graaf. Upon their call to local creatives to come up with a great idea to pimp up the boring wall, a large number of suitable designs quickly came in. There were a few conditions attached to the designs; one should have a connection with fish, the other with the love locks hanging on the fences in the park, and the other designs should tell a story about Zeewolde. It is up to the artists how he or she will fill this.
Marvin Abdel-Nour (23) was the first to stand on the scaffolding to put his submitted design, 'the pencils of Zeewolde', on the wall in large format. "This is my favorite part of Zeewolde because it is so playful and childish," the young artist explains his choice of design. He is happy to be able to participate in this project. "I am grateful for the initiative started by Wilco van Leeuwen. And above all, that we as artists can use our own creativity in the designers. "
The mural of the 'pencils' is now almost finished. "Now we just need to dot the i's and cross the t's," says Marvin, who says it was quite difficult to work on such a large format. "This is my first mural. I started sketching with sidewalk steps because it can be easily adjusted. Usually I paint with oil paint. For this project we work with wall paint and it dries very quickly." Marvin's intention was to create a 'feel good' painting. "Warm, colorful and not offensive." And he absolutely succeeded.

Marvin at work – (Photo: Wilco van Leeuwen)
Meanwhile, the other artists, armed with paint and brushes, regularly stand on the scaffolding. Yvonne Casander, who at the age of 75 is still climbing the scaffolding as an 18-year-old, is making a painting that contains a number of eye-catchers of Zeewolde: Tulipanøen, Het Baken, de Verbeelding and the atoll. Yvonne is a visual artist. Following suggestions from the initiators, she came up with a rough sketch. It was immediately enthusiastically received. Transferring it to the huge wall was a huge disappointment for her. "It is difficult to keep track, especially if you work alone. I now work from a staircase, so I am more mobile, and it is faster to draw. " It's a huge job, but Yvonne is really looking forward to it. The first lines are already on the wall. "I do not have much time right now to continue, but fortunately we have some time yet."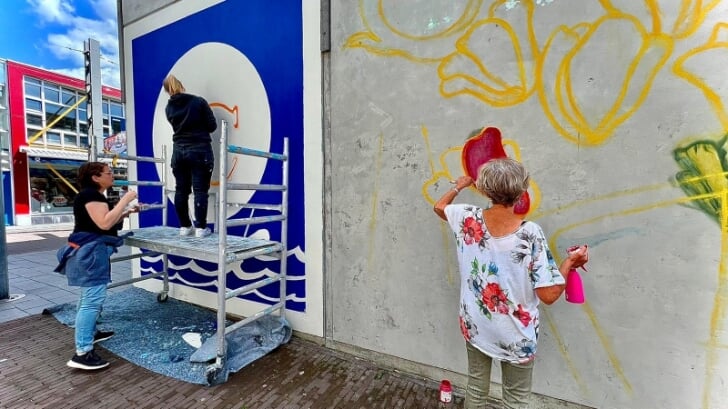 Yvonne Casander (r) and Ineke vd Zwaag at work with Eva Kaales – (Photo: HvB)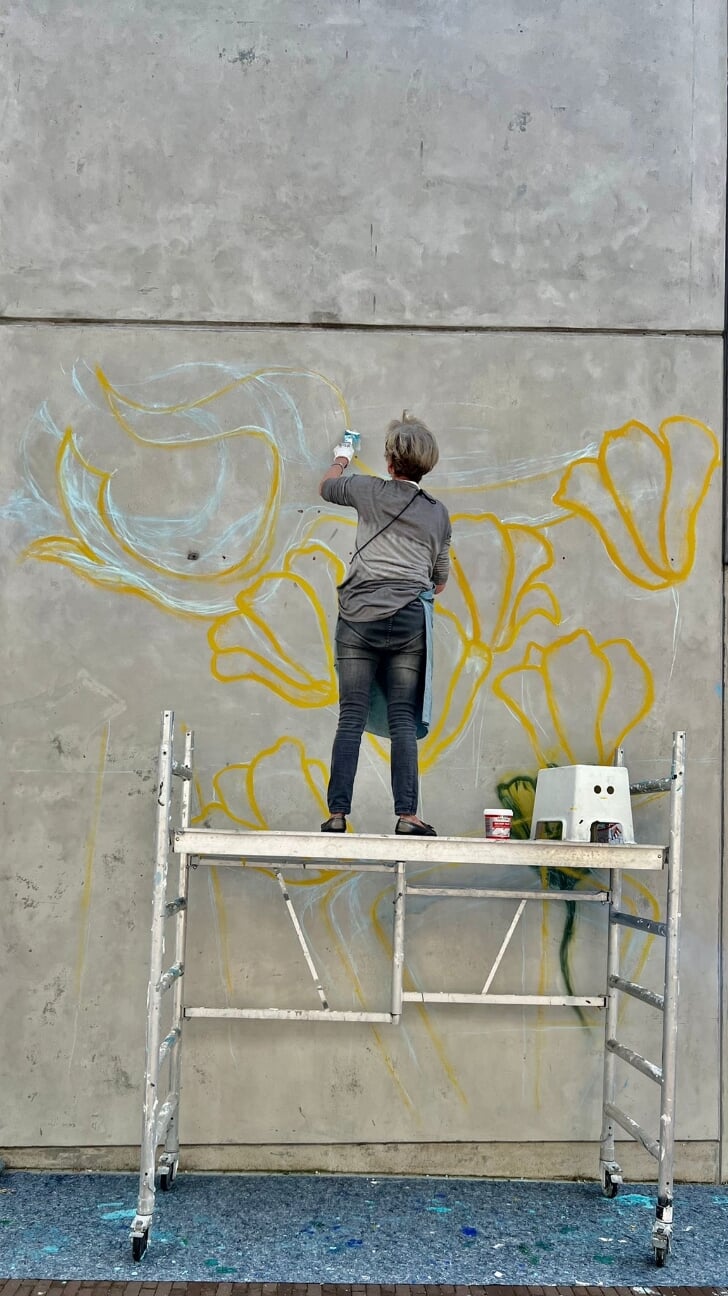 Yvonne on the jetty- (Photo: Wilco van Leeuwen)
Mark Veerman fills the last wall section. His design has a connection with the love locks that hang next to the fence by the park. "I can lose a generous dose of freedom in this theme. A year ago I could not have done this. But I have had a boyfriend for half a year now, and happiness shines through in my work! ", He says with a laugh.
Mark is a freelance illustrator and really enjoys being able to participate in this local project. "It's quite difficult to get a job as an underground artist. It's a good job that you can put your teeth into. "
For the artist, who usually makes very fine pen drawings with a lot to see, it took a little getting used to working with such a large format. "I can not make it as crazy as on an A4, because it must be legible. Therefore, I had to bring the design back a bit. Just suppose it's quiet for me! "Because of his experience in graphic school, Mark does not find magnification so complicated." I'm not averse to some improvisations. And it's not a race. I have time to "Make something beautiful out of it. You can see it as a living work of art that emerges slowly."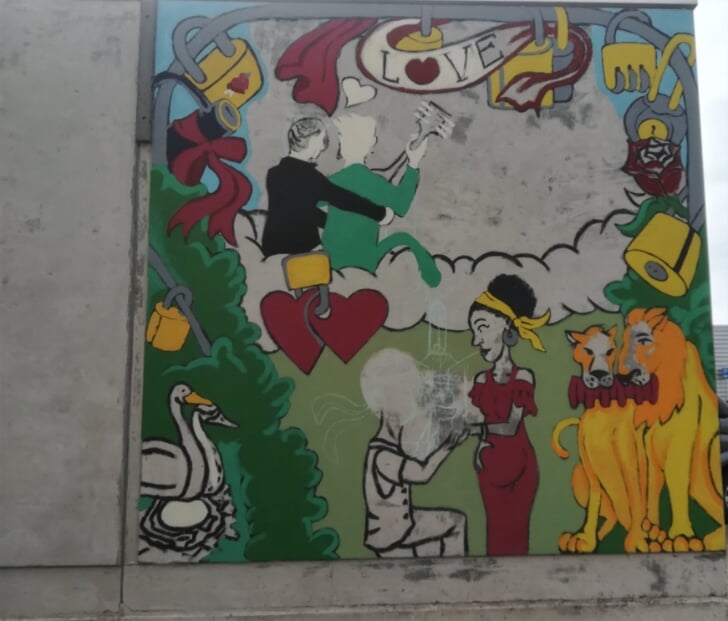 Mark's design is beginning to take shape (Photo: Zeewolde Actueel)
The other panels are completed by Ineke vd Zwaag and Eva Kaales. Their painting has a connection with the fishmonger. Jeroen Florie and Maaike Klaver make a tree with birds, as seen in Zeewolde, with a nod to IVN. Freya Dukke makes a map, and Ungdomsværket starts working with a group of young people to make a beautiful tulip panel.
In short: reason enough for visitors to the center to regularly take the alley!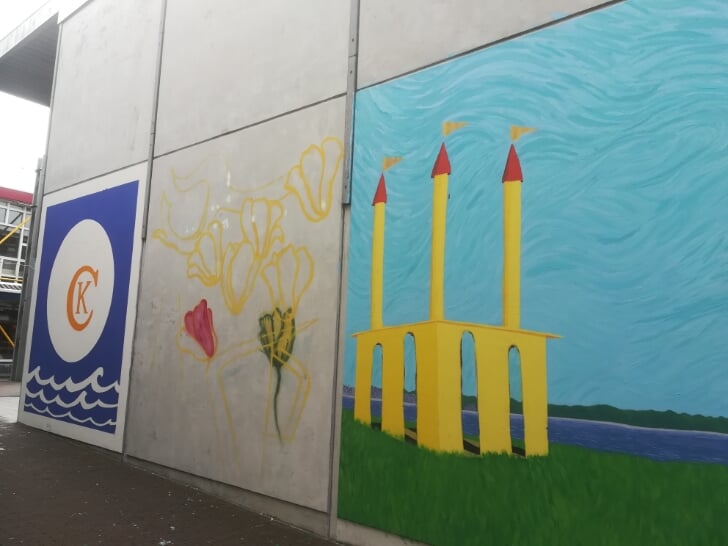 Steeg already has a different opinion – (Photo: Zeewolde Actueel)