Article overview
Maurice.nl has existed for 25 years. An overview of the story and the plans. Thanks to visitors, donors and staff.
Read the whole article: Maurice.nl 25 years
Reading time: 5 minutes
1997
The web address www.maurice.nl was registered in the summer of 1997, now almost 25 years ago.
It was done by my son Marc, who had his own internet company and was preparing a special surprise party with the rest of the family on the occasion of my 50th birthday in October 1997.
It became a site where guests received information and could participate in the surprise for that surprise party.
I was lured to Mediaplaza in Utrecht. A place where companies could experience the latest developments in the Internet. Vincent Everts was the director there, with whom I was already working at the time, from my work as CIO at Wegener.
And on that surprise night, I was shown the first website with congratulations from many people.
Boom Chicago also performed, American comedians who operated from Amsterdam and of which I am a fan. Seth Meyers, who now has a popular evening show in the United States, was also part of that group at the time.
This is a picture of that concert with Seth, second from the right.
Unfortunately, the original website can no longer be reconstructed, but in the years that followed, I used it for official announcements. This is the top of the site in the year 2000.

2004-2009
In 2004, blogging started to gain momentum and I started using my site to write articles and post interviews or lectures I gave. The page was modified and adapted for that purpose. This is the page as it looked in early 2005. I wrote mainly on topics related to polls, politics and technology.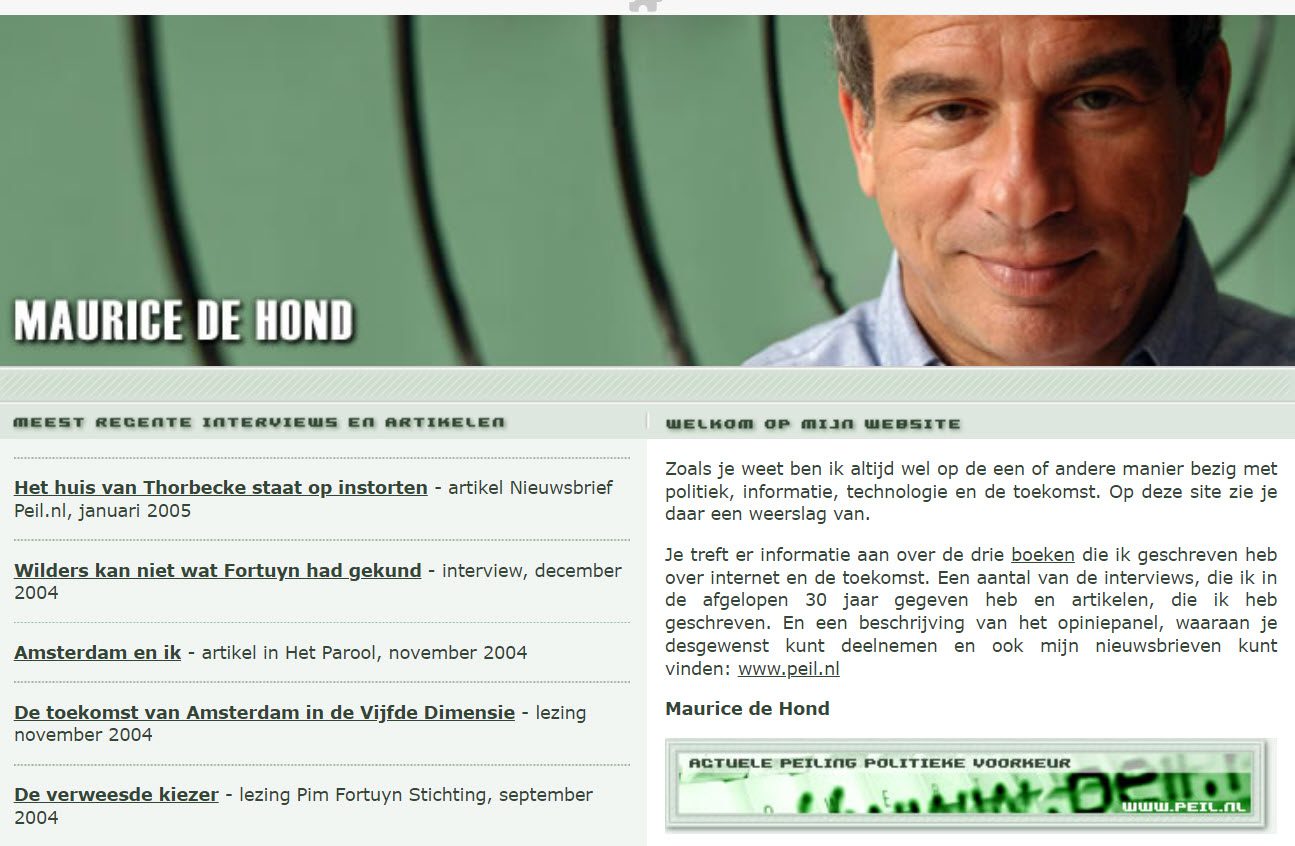 Between 2006 and 2009, I used the site very intensively. It was mainly due to the topic "The Deventer Murder Case", about which I posted a lot of information. The reports we made with a small team of volunteers also found a place on the page. We found many discrepancies in the case, and we conducted investigations that the police and the NFI had failed to conduct between 1999 and 2004.
2009-2015
In 2009, the design of the site was changed. There were several individual parts, which you can see at the top of the new design.
I also made a special page for my dad the day he was born 100 years ago. And a year later, I did the same for my mother.
2015-2020
In 2015, the design of the place was adapted and also modernized in another way.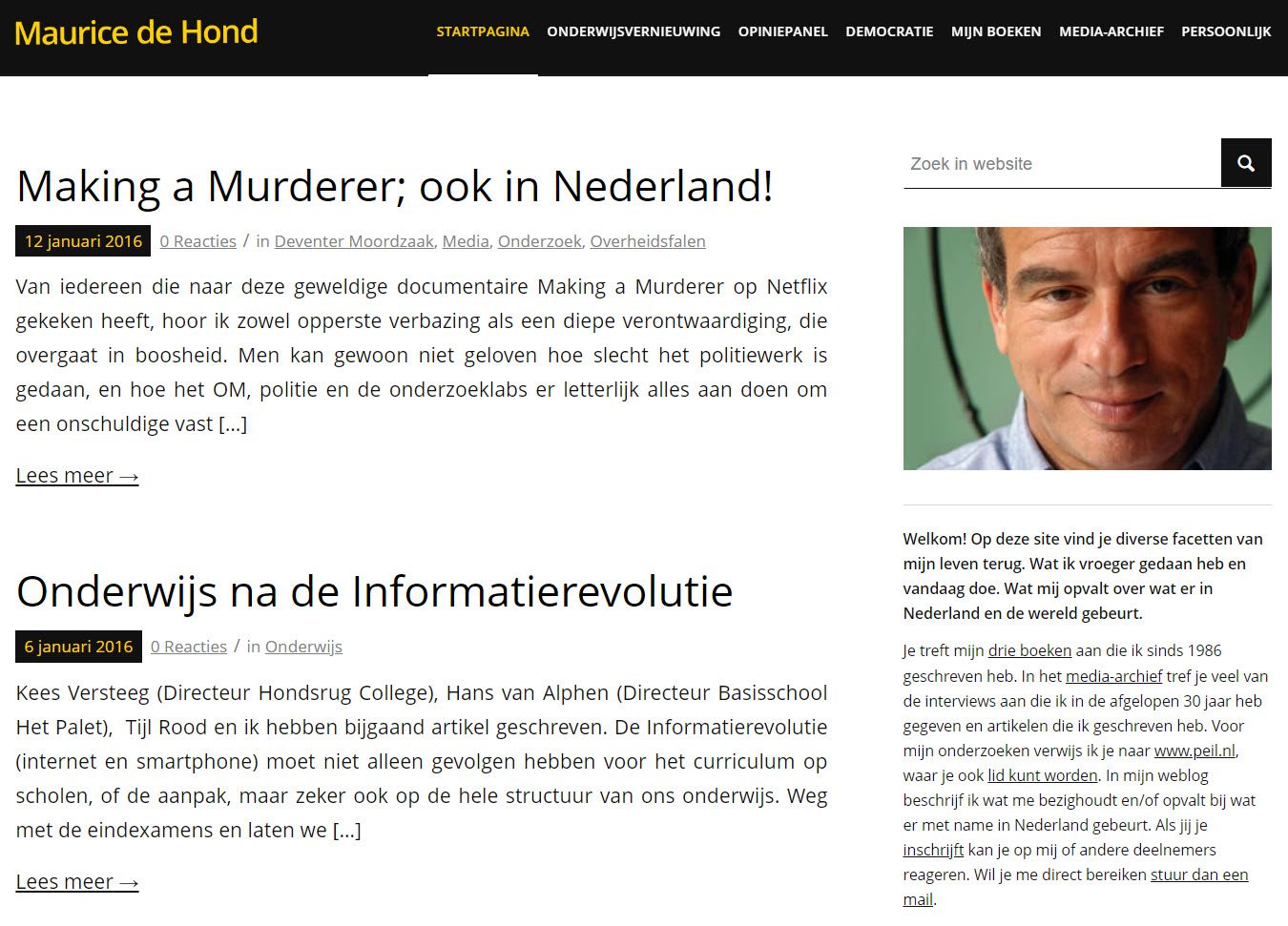 I blogged about it regularly. Between 2004 and 2019, there must have been about 750. I also kept my media archive. Who I was interviewed with or if there had been any special TV appearances. The books I had written could also be found there.
2020-2022
In late March 2020, I posted my first articles on Covid-19. At the time, I was particularly fascinated by the fact that from my own data analysis and study of scientific studies, especially by physicists, it was already very clear that the spread did not take place via large droplets and objects. But that the virus moved through the air. And that advice, in short, if you are only 1.5 meters away from each other, then you are safe, ignored this wide road. Plus it was clear that ignoring this distribution route would create a battlefield in healthcare institutions.
From that moment on, I published almost daily articles with content and analysis, which – to my surprise – got some attention in the traditional media. The data collection, data presentation and modeling in the Netherlands were also of inferior quality. Something that was confusing to me in such a big crisis.
Here you will find the page's table of contents from the end of March 2020. (Considering the large number of articles, it takes some time to build up. You can search the page from the end of March 2020 via the search guide).
Visits to the site increased enormously. The questions and emails too. The site was not really built for it and I only had 24 hours a day available to respond. Help was offered from various sides. Probably also when I edit my lyrics, which really needed and have.
In the summer of 2020, I decided to have the place completely rebuilt. To cope with the huge visit. And to put together a team of people who could play different roles on maurice.nl.
It was important how this could be paid for. When I asked questions about this on the site that summer, it turned out that there was a clear willingness among visitors to donate to it. Based on this, the site was customized and highly professionalized. More people were attracted to being active on an almost daily basis. Plus, volunteers have also volunteered for a variety of activities. In addition, a Green Team was formed that placed articles.
The page looked like this: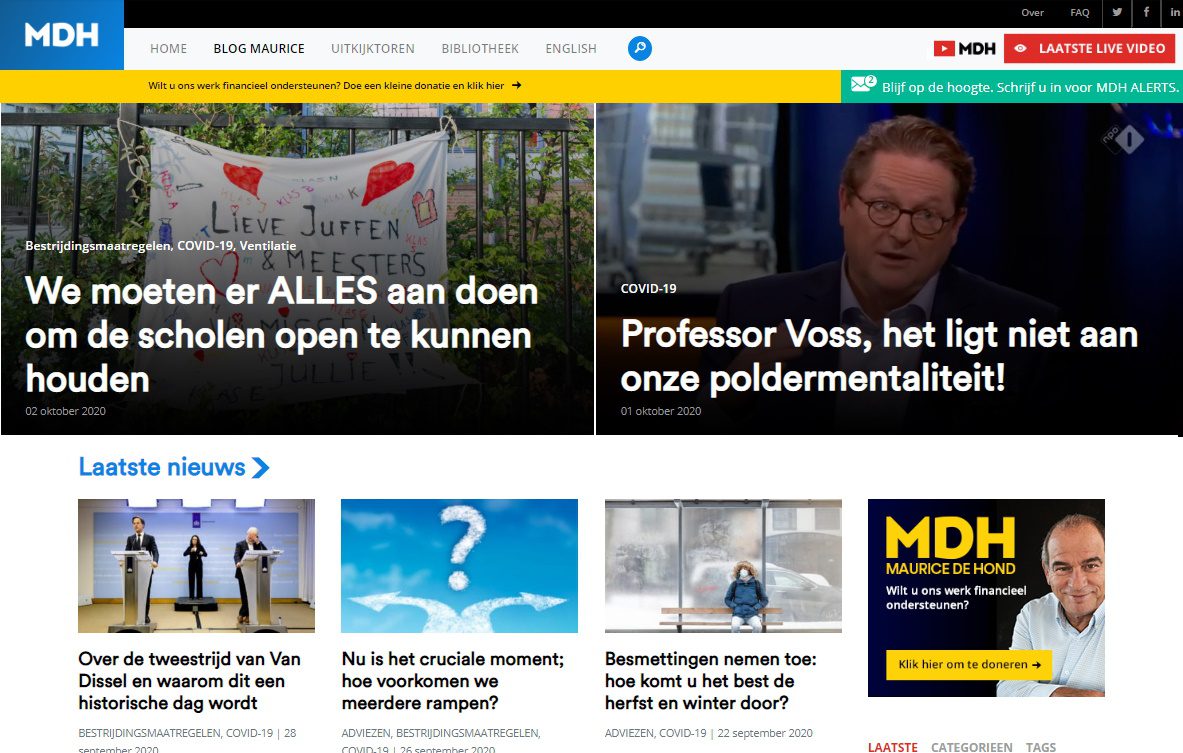 Last week we met – for the first time – physically, and it was almost 20 people. (It was special to see how people who had worked intensively together for 2 years met each other physically for the first time). Unfortunately, because of their work, some do not want the picture we took to be posted here. I would like to thank them many times for their great commitment and dedication. Each of them has received a certificate from me which looks like this.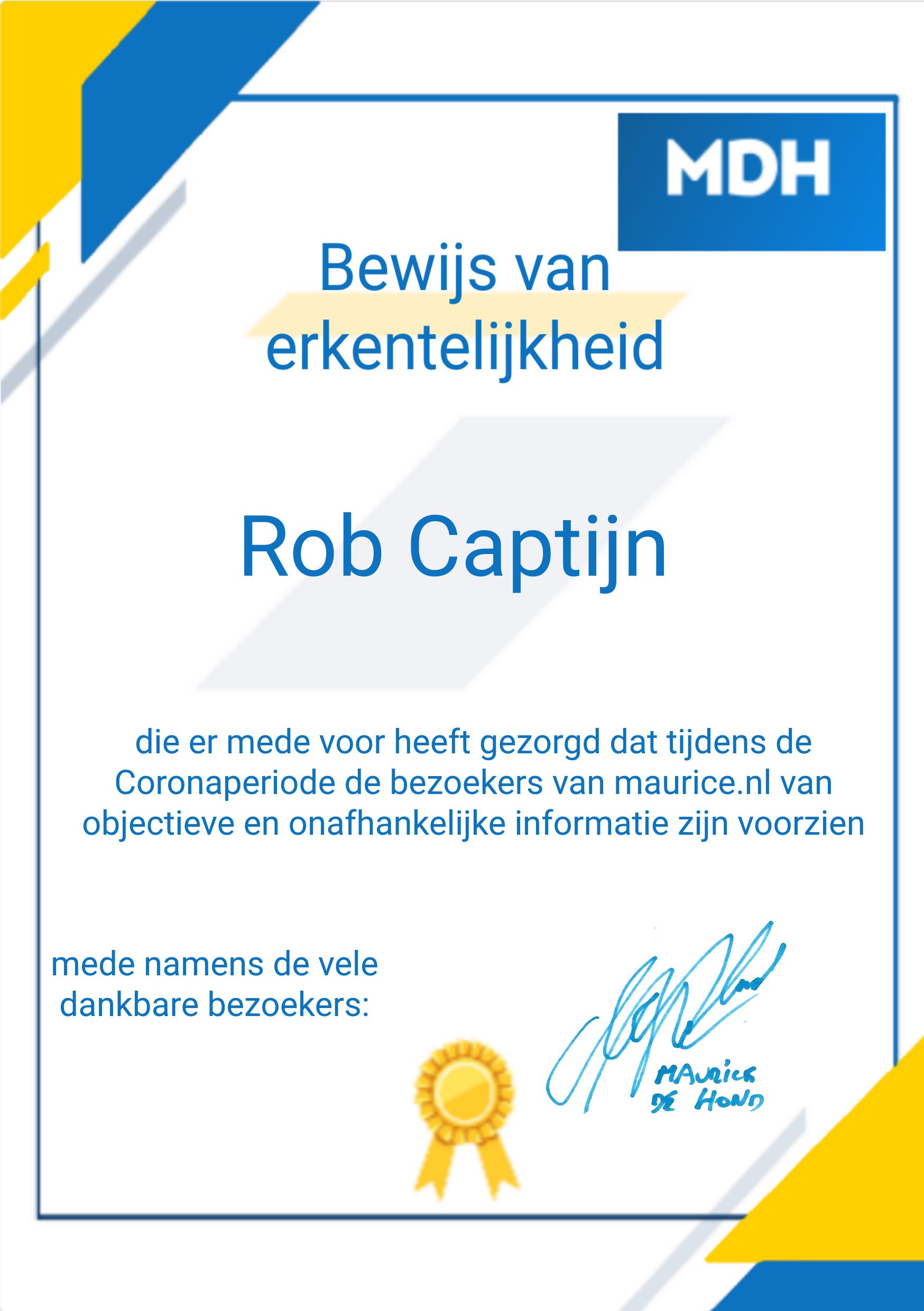 (Rob Captijn was deeply missed at the meeting. I have worked closely with him on many projects since 1985. He was creative, could do anything, and he was a good friend. From March 2020, he worked intensively on the site, both editorially and in terms of illustrations.He sadly died at the end of February 2021).
And from now on
When the site was converted in August 2020, there was still no room for the old articles on the other topics I had been aware of. They were temporarily removed. I did not know that it would take two years before there would again be "room" to do something with those articles.
Precisely because I do not know how important the Covid-19 part will be this fall, I will not change the whole page yet. I also noticed that visitors did not appreciate it when topics were discussed at the same time.
Therefore, the page in a few steps will also provide space (including archive) for the other topics that I found and find important.
The first big step is that there will be a separate and complete section dealing with the Deventer murder case. I believe that this issue will continue to be high on the agenda in the Netherlands in the coming years. Not only will new articles be placed, the relevant articles from the archive will also reappear. At the top of the menu you will see a separate heading with "Deventer Murder Case".
Polls can, as always, be found here.
We are still in the process of creating a separate place for the other subjects, as we have now done for the Deventer murder case. It will happen in the coming months.
Finally, I'm working on making the media archive easily accessible again. It will happen in July.
The fact that I was able to do all this is on the one hand because I notice that this is appreciated by many in the Netherlands (and beyond). I notice this in the many emails we receive. And the special personal reactions.
But on the other hand, it was and is only possible to do this on this scale and with the involvement of professionals, thanks to the financial support of the visitors.
The procedure was always that all information on this site would be and remain free. That no ads would be placed. And that there would be no sponsorship from possible interest groups. The necessary revenue comes solely from voluntary donations from the visitors. Fortunately, we have received a large amount of support from you from August 2020, so that we could do what we have done.
I hope I can continue to count on your interest as well as your financial support (from time to time). As I have done so far, I will continue to try to provide you with relevant, independent and verifiable information.