Early in the morning I hop on my bike to catch the train to Rotterdam or The Hague. Or I enjoy the sun on my bike on the way to the other side of Amsterdam. Another day I work on the train during a long trip to the eastern part of the country: this is what my life looks like now. I visit all kinds of childcare organizations in the Netherlands and observe how multilingual toddlers play with each other.
For example, I would like to know if they use their mother tongue and how they play with each other if they do not speak each other's language very well. We know that children learn a lot from playing with each other. In previous studies, I heard from childcare staff that multilingual children do not always associate with peers. This is also reflected in previous international research: young children are sometimes excluded if they speak another language.
I found this shocking to hear, because besides being very annoying to the kids, it can also be detrimental to their development! At a young age, you lay the foundation for school and the rest of your life. Therefore, according to Nobel Prize winner James Heckman, it is the most important age to invest in. If you really want to do something about inequality in opportunities, you have to be there early.
Sometimes it seems like I'm in the '4 year old's secret life', but with toddlers.
Reason enough to look at the interplay between multilingual toddlers. Because we do not know much about it yet. That is why I am conducting an exploratory study. First of all, I map with the help of a social network analysis, which small children play with each other. To do this, I keep track of which kids are playing with each other in an app (you'll find a screenshot to the right).
With the CSNA app, developed together with Wilhelm Thieme, I keep track of which children are playing together.
Anne-Mieke Thieme for NEMO Knowledge Link
Using statistical models, I investigate whether toddlers who are less proficient in Dutch play as much with other children as toddlers who are better at Dutch. I also check if children who speak the same language at home visit each other more often.
Second, I make video recordings to see how toddlers communicate and how they play with each other. For example, I am curious about how complex the play and language of multilingual toddlers is. Do they make complex sentences, do they make extensive role plays? We know that complex games and language use are very good for development.
For that, I need a lot of data from different types of toddler groups in the Netherlands. With many or few multilingual children, with children from a privileged or less privileged social environment. That's why I travel around the Netherlands to collect data on childcare. Very nice work because you see and hear very interesting (and sometimes very funny!) Things. I'll take you into the 'Secret Life of Three-Year-Olds'.
drink salami
In the morning, after the circle, I observed a playgroup. A toddler was clearly an upcoming chef who worked hard to make delicious snacks and drinks for the staff with toys. For example, this child gave an employee a toy salad leaf and said it was a pancake. 'What kind of pancake is that? With salad? " asked the employee. 'With salami!', The child replied enthusiastically. The employee looked doubtful: 'Oh, I think I'd rather have a pancake with apple …' This gave me a smile on my face, but what happened next was even more fun. The other employee was also spoiled: she was offered a fake drink. "My dear, what kind of drink have you made for me?" "Salami!" "Uh, do I drink salami?" "Yes, salami!" It does not work so well for me …
Children start playing at this age. This means, for example, that they pretend to be a doctor or have someone on the phone. Or as in this case: to cook. Pretend that play is very important for development, both linguistically and cognitively. When I talked to staff before, some of them thought that children who do not speak Dutch very well have a hard time pretending to play in Dutch. I would like to look at this in my research. Maybe it helps multilingual children if they play pretend games in their home language? It seems that a good development of the home language helps children to also learn Dutch well, and that imaginative play also stimulates language development further.
via GIPHY
Pretending to have someone on the phone is a form of pretending play.
A blue apple
It is very important to help children enrich and deepen their play and interactions. For example, a child told me about all kinds of food (a recurring theme apparently … and understandably I love food too!). I asked him what color the food was. 'What a beautiful apple, what color is the apple?', To which the child replied: 'BLUE!'. I replied that it was a nice, juicy, red apple.
I tried again with a piece of yellow cheese, which according to the child also had the same beautiful blue hue. As a linguist, I suspected that this child might be calling all colors blue (or that blue happened to be his favorite color). This type of overextension is often seen in language development.
A well-known example relates to the word 'father'. Imagine: every time a child's father comes home, the mother says excitedly, 'Look, there's a father!' against the child. To which the child cheerfully shouts: 'Father!' One day, it's not Dad walking through the door, but a male friend. And you guessed it … The baby excitedly shouts 'Dad!' when that friend comes in. Apparently, all the men who enter the house are 'fathers'.
Frustrating
Very normal in language development, but I think it's more worrying if some children are a little grumpy and insecure in a corner of day care, and not really playing with other children. Sometimes those kids don't speak Dutch very well yet, but I don't know if that really is the reason. It is very difficult to investigate. This is also due, for example, to their character or social skills. I try to investigate this, and take into account the social openness of children.
There are also children who try to play together, but who often end up in conflict. Sometimes children cannot clearly express what they want in words, and they choose another path: for example, pushing another child away or taking a toy. Are children perhaps more likely to do this if they are not yet very proficient in languages? At least it seems pretty frustrating to me if you do not know how to express what you want to say or do not understand what others think! Is it like the Tower of Babel, or do young children somehow find ways to communicate with each other? I also think that is a very interesting question. And does it matter if children can use their home language?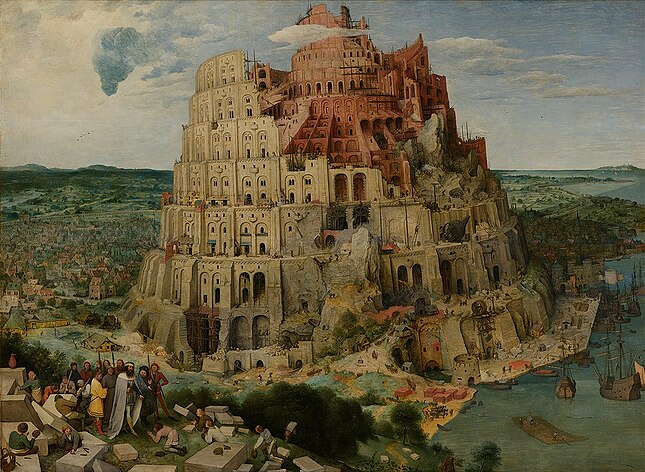 Is it like the Tower of Babel when you do not speak each other's language, or does it matter at a young age?
You notice: enough to see, and enough questions. Much is unclear about the interaction between multilingual children. Childcare workers have often learned a little about multilingualism during their training and indicate that they would like to know more about it. Ultimately, I hope to stimulate multilingual children as much as possible in their development. For example, by also using their home language. Research shows that this works well. Until then, I'm excited to continue this research version of 'The Secret Life of Three-Ear-Olds'!