A combination of sustainable techniques makes the drying process of herbs and seeds at Hans van der Mheen's company CO2-neutral. It is the first installation in the Netherlands to combine solar and geothermal energy in this way.
Seed and herb grower Hans van der Mheen has small, high-quality products in his company in Elburg, Gelderland. On his 4 hectares of land, crops such as oregano, arnica and poppy are used for seed production. These are intensive crops where quality is important and the share of organic sales is growing.
This quality counts when building a drying installation. "I use a lot of air to dry the seeds, and it must not get too hot to maintain germination," explains Van der Mheen.
Munster University of Applied Sciences
A few years ago, the grower joined a European Interreg project with grants for sustainable energy use. Dutch dryers of herbs (seeds) and other agricultural products gathered their knowledge with installers from the Netherlands and Germany and with the Fachhochschule Münster.
Geothermal energy proved to be better suited than hydrogen technology
Hans van der Mheen, seed and herb grower in Elburg

'The project started in 2019 and was completed at the end of June. The goal was CO2-neutral drying. With a subsidy of 66 percent from the Interreg pot, we have succeeded in building this drying installation, "says Van der Mheen.
For the grower, it was primarily a task to find the technology for his situation. 'It was immediately clear that I wanted to use solar panels, but otherwise it was a long search for the right design and a good installer, and whether we wanted something with hydrogen or geothermal energy,' he explains.
Hydrogen not usable
The hydrogen technology proved to be unusable for drying over short periods of the year and is technologically and license-wise difficult. 'I wondered if a combination of geothermal and solar heat would be appropriate. It was a slow decision, where the project partners eventually convinced me that this was a good option ', says Van der Mheen.
'The design of the installation was further elaborated with the company Rebra / Ecensy, which also carried out the construction. If all goes well, Bram Grabijn from Rebra / Ecensy will develop more such installations for agriculture. '
Computer program
Grabijn wrote the computer program for the installation, so that the technology changes based on outdoor temperature, solar energy production, heat from the solar panels and the temperature of the water at a depth of 150 meters in the source. The propane heaters made room for sustainable energy. Construction started in December 2021.
The southern orientation of the shed roof provides 30 kilowatts of heat from the solar panels. The power production of the solar panels is matched with the 45 kilowatt pumps. When solar energy is produced without the installation asking for it, the system stores the heat in the deep well. That groundwater, in turn, provides the heat during drying.
heat accumulator
Geothermal energy is a buffer of sustainable energy, a 'heating battery' for Van der Mheen. Because the water at a depth of 150 meters moves only a few meters a year, storing heat in the source is efficient.
According to Grabijn, a system like this also fits in storage sheds with larger capacity. It can be used for onions, potatoes or onions. 'Then you might need to have some more boreholes. Here it is four, but you can also do it with ten. '
No flue gases
It is interesting that Van der Mheen does not blow flue gases through the product with the new installation. A heat exchanger provides indirect heating of the air. During periods when the grower himself does not need drying capacity, he could use the installation to dry seeds, herbs or food for third parties.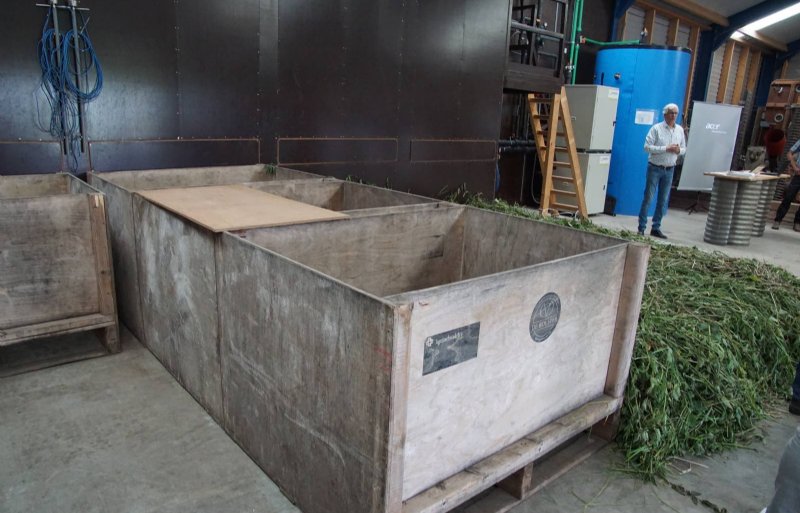 Van der Mheen is already doing this for the organic seed company De Bolster in Epe. "In the fall, we dry pumpkin seeds for them. They are in drying boxes. It is quite moist and slimy material. You need a lot of air and a low temperature ', he explains.
Drying of herbal tea
The grower can also dry roadside grass or pond grass for biomass production, but it is a rather low value application. 'That's why I prefer to do things for human nutrition. It could be, for example, medicinal crops or herbs for herbal teas. '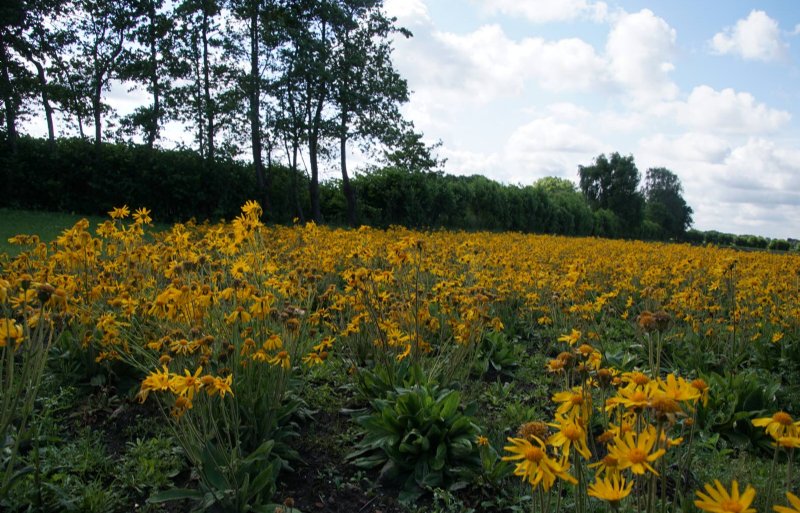 The official opening and presentation of the drying plant in Van der Mheen was on 9 June. He looks back on the development of his business. 'I have been here since 1996. I have bought the herb garden from VNK. I worked at PPO in Lelystad for twenty years, but I am now full time in this company. Priority is seed cultivation. Since I have produced seeds for De Bolster, I have largely switched to organic ».
The barn was renovated in 2014. This is 15 times 25 meters with the environmentally friendly drying installation.
Dutch and German partners
Frederik Wanink from DNL contact created the connections between the Dutch and German partners in the project. 'I think Hans is too modest about the installation,' he says. "This concept is completely new to the agricultural sector. The indirect drying through the heat exchanger makes it interesting to me. '
According to Wanink, the cooperation and funding from European money, money from the German federal state and from Dutch provinces enable the development of energy-efficient drying systems to take steps.
Van der Mheen still needs to get used to the complex technology of the installation. 'It's a process to learn by doing,' he says. 'I can arrange it via my mobile phone. I do not understand everything yet, but I have to have experience with that ».
Tuning all components is the puzzle
Students from Fachhochschule Münster contributed to the development of Hans van der Mheen's drying plant in Elburg. Professor Hans-Arno Jantzen explained during the opening how the students have calculated the air flows through the solar panels and the product to be dried. The installation works with indirect heating of the air. According to Van der Mheen, it is especially important that the air dries out. 'If the outside temperature is 12 degrees, we can dry at 17 degrees.' Installer Bram Grabijn solved the puzzle of coordinating geothermal heat, solar panels, heat pump and electricity from the panels. The power is tuned. Thanks to geothermal heat, the efficiency of the installation can be high. 'A 6 kilowatt compressor produces 26 kilowatts of heat at a water temperature of 8 degrees in the ground, but at 10 degrees it is already 32 kilowatts.'