For years, people have worked to make homes more energy efficient through campaigns, regulations and subsidies. Less attention was paid to adapting to a new climate with hotter summers and heavy rains that cause flooding. What happens?
You might have missed it, but there is a Delta plan for spatial customization. Most people know that we must no longer emit CO2 in 2050, but this 'delta plan' must ensure that the Netherlands is also 'water-resilient and climate-proof' in the same year.
"It is logical that for years the greatest attention went to the energy transition, because we have to fight global warming as much as possible," says Jeroen Kluck, associate professor at the Amsterdam University of Applied Sciences. He researches the climate resilience of cities. "Climate adaptation is about quality of life. By designing and building houses differently, with water storage in the area and cooling in our houses. Last week we experienced again how important it is."
In other European countries, more is being done to fight floods, Kluck believes. "Since 2004, every house built or renovated in Flanders has had to have a rainwater storage tank in the garden. In the Netherlands, this is still optional in many cases. Fortunately, newly built neighborhoods have been designed to be more climate-proof in recent years, with for example wading yards , in which rainwater is stored above ground."
To design and renovate houses differently
For a more comfortable living environment in the house, houses must be decorated differently, says Tineke Luping from Innovative Living in Almere. "The transition to energy-neutral houses has been successful. But if we do more with wood and other things bio-based When we start building materials, we can store CO2 in houses." cool down earlier during a hot summer.
It is also an innovative design, say both Luping and Kluck. Where the traditional doorzon home for decades primarily had to bring in the heat from the outside, shade has become more important with solar shading or overhanging facades. "Of course, it's much more environmentally friendly than us now all having to buy air conditioning. I can imagine that it's nice, but then we use more energy."
Jeroen Kluck is also positive about the Delta plan and notes that it already encourages the municipalities to do their best to improve existing housing. "We are measuring and calculating right now to set new standards for renovations. Housing associations have been shaken because tenants are suing because it is too hot in their house. In the meantime, a fine guideline has been devised which says that every home within for 300 meters from a cool place, such as a small park, as long as it ensures that people are not locked in a warm apartment during heat waves."
There are also campaigns to make the gardens greener – especially with fewer tiles. Stichting Steenbraak helps municipalities and residents green their gardens in a sustainable way, so that rainwater is absorbed. Greener gardens also provide a cooler living environment. The foundation has even made it a competition with the Dutch championship Tegelwippen.
From the climate-safe housing fact sheet, made by researchers from universities of technology, among others.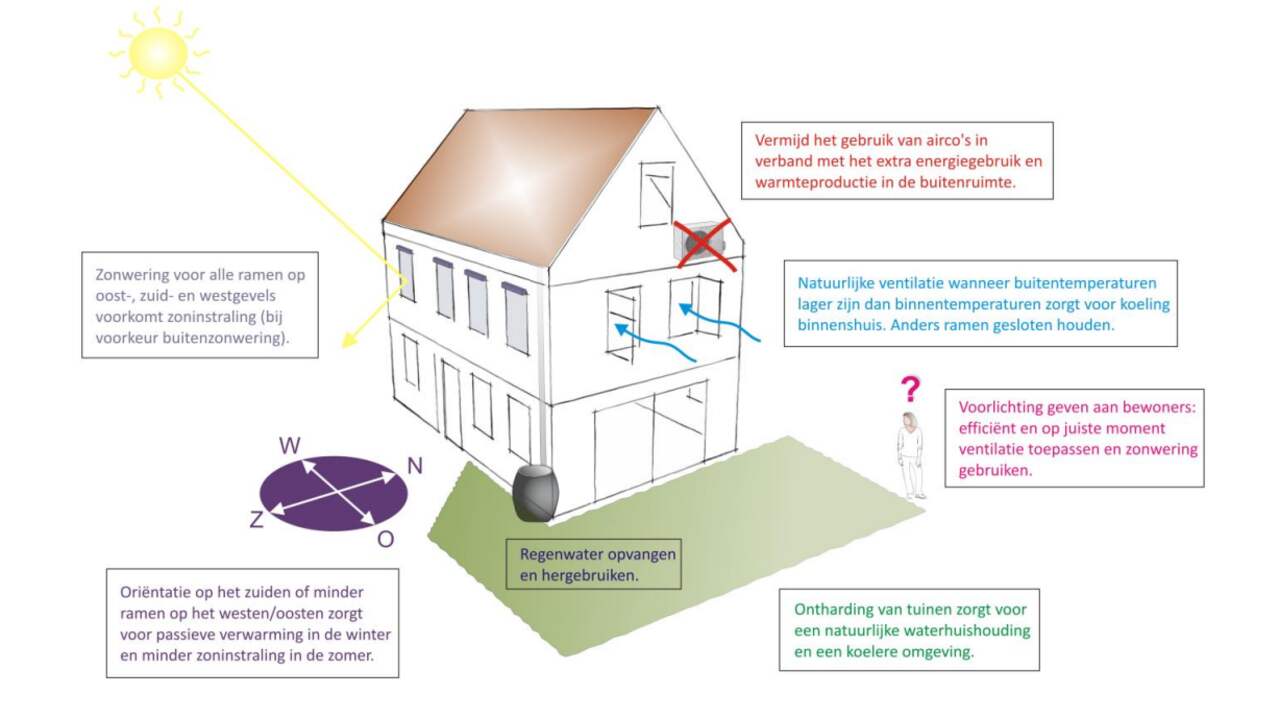 Because rain showers will become more intense in the near future, the municipalities mainly want downspouts to be disconnected from the sewer. "In my hometown Deventer, there are decoupling subsidies and decoupling buses," says Kluck. During heavy rains, the sewer can no longer cope with the large amount of water. Green roofs can also help with water retention, absorbing it like a sponge under a roof. You can see which subsidies your own municipality has through the subsidy guide for Milieu Centraal.
Finally: Isn't it strange that in the Netherlands we use drinking water to flush the toilet or to water the garden? "Ideally, you would do it with rainwater," admits Kluck. "But it turns out to be difficult in practice. You sometimes talk about the supply of gray water, which is less purified than our drinking water. This again requires large investments in its transport, so it may not have the highest priority. These investments are more necessary in the fight against heat stress in our cities."
How to protect your garden from rain and heat
Use permeable ground cover, such as bark and gravel.

Take a rain barrel to collect rainwater.

Create a height difference and direct water to a place where it can be temporarily stored.

Tiles out, greens in. Preferably less than 50 percent tiling.

There are a total of 22 tips. See them all here.