News
–
TPVision, brand owner of Philips, can look back on two successful years in which revenue has almost doubled. For television, growth was 48 percent this year alone. Audio products accounted for a growth of 20 percent. CEO Kostas Vouzas just said this at a press conference in Berlin on the eve of the annual IFA fair.
Ambilight appears to be an important factor in the success of television sets. Most of the units sold have LED lighting on board that responds to the sound.
Cooperation with cent partners has also been expanded. Apps from The Explorers, DAZN, Paramount and Rakuten are pre-installed.
It is the first time that TPVision no longer shows its products at IFA in Berliner Messe. Dealers are invited to a separate presentation outside the Berliner Messe area.
TP Vision launched the new Ambilight TV range today in Berlin. The new series consists of the Philips OLED+937 flagship and the Philips OLED+907, both developed in collaboration with Bowers & Wilkins.
The 65-inch OLED+937 combines an improved version of the proprietary AI Dual Engine with OLED EX panel. TPVision talks about an 'impressive light output' of 1300 nits.
In addition to the special AI functions, the 2022 version of the P5 AI Intelligent Dual Engine image processing includes an HDR function that optimizes performance by depicting content frame by frame instead of averaging scene by scene.
The Bowers & Wilkins sound system has also been improved, offering dedicated left- and right-facing drivers for the first time.
The OLED+937 is also one of the first sets with Philips Ambilight Next Generation technology. Instead of dividing the rear-mounted LEDs into groups, the technology now allows for individual control of each LED for a wider range of colors and a more accurate match to the image on the screen.
The OLED+937 further provides an "excellent gaming experience" thanks to a dedicated on-screen gaming settings bar, plus a new VRR Shadow Enhancer feature to optimize gaming performance for the panel's refresh rate.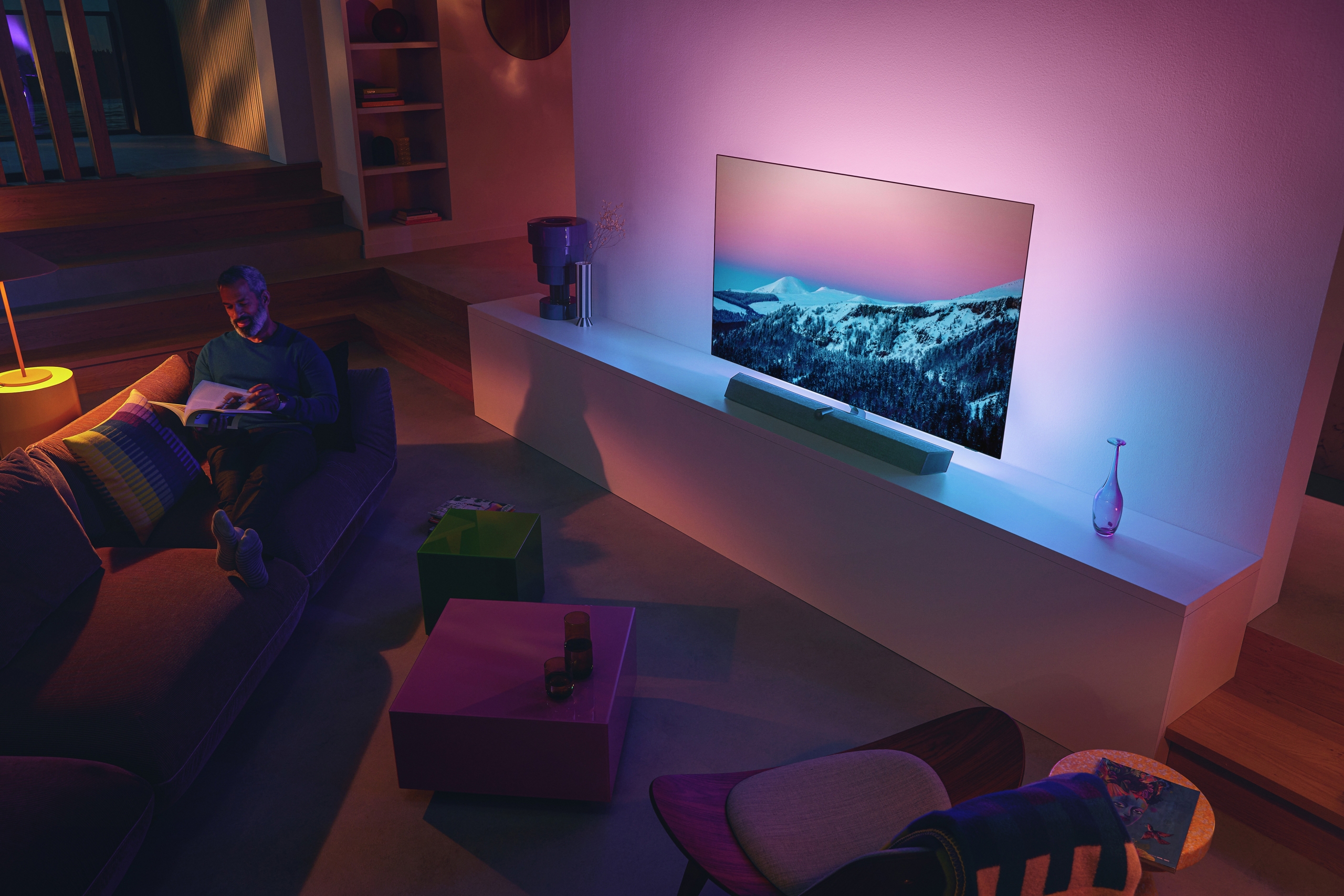 The Philips OLED+937 will be available in September in 65 and 77 inches. Prices will be announced later.
The new OLED+907 improves on the concept of the original OLED+903 model by 'discreetly' integrating a Bowers & Wilkins sound system into the set's overall silhouette.
Image quality is provided by a combination of 6th generation P5 AI and an OLED EX panel, including integrated heatsink, with a maximum light output of 1300 Nits on the 55-inch and 65-inch sets.
The included 80W Bowers & Wilkins sound system features six front-mounted drivers that 'shoot' directly at the listener in a dedicated left, center, right (LCR) arrangement. This provides an extra wide soundstage with, according to TP Vision, 'crystal clear dialogue'.
The Philips OLED+907 will be available in September in 48, 55 and 65 inches. Prices will be announced later.
TP Vision also launched a device with Mini LED technology in the form of a 55-inch version. The viewing experience is enhanced through a four-sided version of the new Ambilight Next Generation system.
The design includes a gun-metal finish, a metal frame with a narrow strip along the bottom edge, and dark anthracite anodized brushed metal studs.
The Philips PML9507 will be available from October in 55, 65 and 75 inches. Prices will be announced later.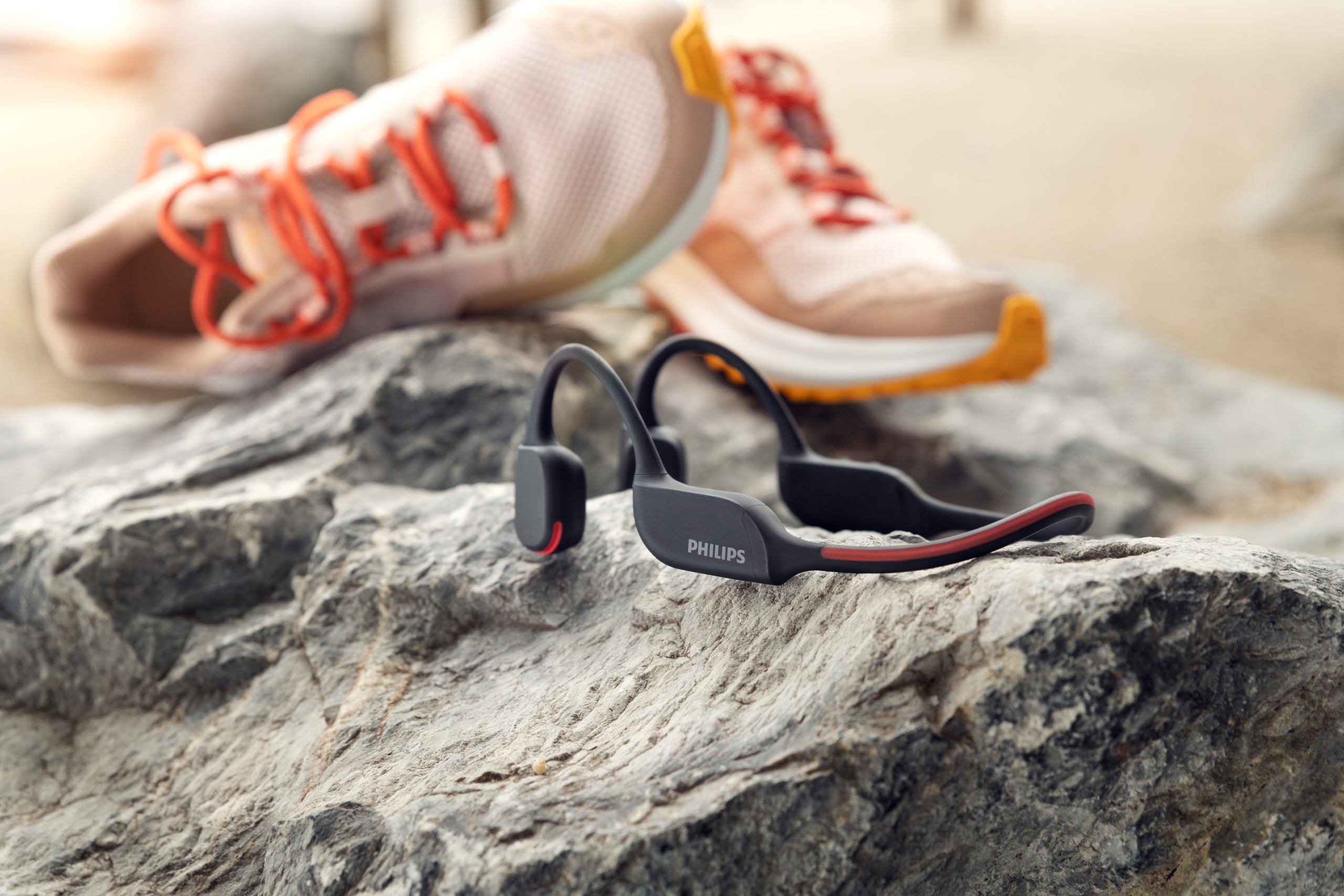 Philips Sound today launched a wide range of new headphones, soundbars and Philips Fidelio Home Sound products.
The (mostly app-controlled) headphones are each aimed at a specific audience: a new sports model and new headset for children, both with bone conduction technology, and high-quality headphones for both work and play.
The new FS1 speaker connects the FB1 soundbar and the FW1 subwoofer. Uniquely, according to TP Vision, the FS1 can be used as a three-way speaker – either as a single unit or in a stereo pair – thanks to the inclusion of a tweeter, midrange driver and bass driver, or switch to two-way mode automatically.
The new Philips Sound Soundbar series includes four models from the 2.1-based B7207 to the 3.1.2 B8907. All new soundbars offer high power, wireless subwoofers and the option of wall mounting. Additionally, they have all side-firing tweeters added to the left and right channels for the first time.