The holidays are over, from today children in Zeeland go back to school. And although the holiday was of course great fun, it's also really nice to be back in class.

Mariska den Hartog, Sophie Stockman and Michiel Bouwman



Latest update:
14:54


At Kirreweie in Burgh-Haamstede, they make it a festive first day of school. The school yard is decorated with streamers and the red carpet is out. Each child receives a rose from the teachers on arrival.
Lonneke van Meggelen-Alblas today brings her son Mees (8) to group five, which forms a class together with group six. As is often the case, the mother probably finds it more exciting than her child. "I wasn't really allowed to go with him, he didn't think it was necessary. But I wanted it myself. It's a whole new class. And my daughter Lizzy is out of kindergarten. We are entering another phase."
Mees himself is particularly interested in it. "No, I don't think it's exciting. It's actually super easy. What I like best is that you can now work a lot with the computer."
Get into the rhythm
At De Moerschans primary school in Hulst, it is also a pleasant reunion by the fence, the first invitations to parties are already being handed out. Jan and Vérène Bosman have their children Elyne (10), Owen (8) and Evie (4). "We had to get back into the rhythm this morning", laughs Vérène. But the routine is soon back in place: go to the bakery, bake bread, help the children and pack three bags.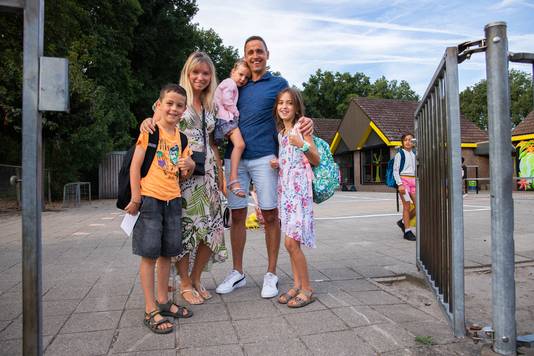 The family looks back on a beautiful summer. "We've been to the south of France, our uncle lives there," says Owen. And do they feel like the first day of school? "A little bit of sense!" Elyne laughs. Elyne is in seventh grade, Owen in fifth grade and Evie in first grade. Elyne and Owen will have a new teacher this year. "They're looking forward to it," says their mother. Owen has one more thing to look forward to: He can now go to the superstructure playground.
Especially want to see friends
"Put it on, make it a great year!", urges a teacher from Prof. Dr. Kohnstamm School in Goes the students. Before entering the school, they are allowed to parade across the school yard. to show who is actually in which group. Among them are the brothers Jules (7) and Sam (9) Truijen, who were very much looking forward to coming back to school. Especially to see their friends again, says father Mark, who will pick them up and bring them to the apartment today. "Usually they only come in the morning, but today is a special day."
The Truijen family stayed in Austria for a week, enjoyed the Zeeland coast and went away for a day here and there. "The six weeks fly by," says Mark. "But such a period is also enough. Then it can start again. And football starts again outside the school. Everything starts up again. It is also good for us as parents to have some routine again after six weeks."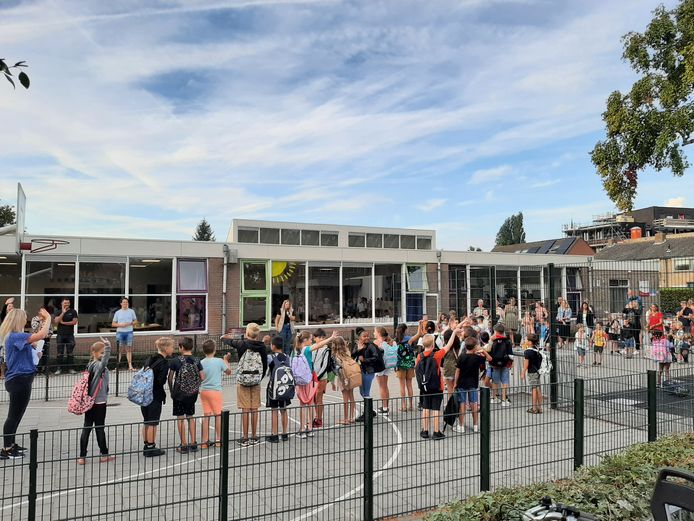 Learn more English again
Noor (group 7) and Jetske-Marlou (group 3) from 't Mozaïek primary school in Oost-Souburg have really been looking forward to the first day of school. "It's sometimes quite boring during the holidays when it takes so long. Now I see all my classmates again, and there are also three new children in the class. Nice", says Noor.
Jetske-Marlou is also happy that she sees all her classmates again and can play with everyone again. And just like Noor, who especially finds English interesting, she also enjoys the lessons. "It's also fun to learn new things." Director Sonja Musters is happy to hear that. She is also happy to see everyone again on Monday. "Six weeks is quite a long time," she agrees with her students. "I am particularly happy that everyone is healthy and happy at school again. Children and teachers. We have a super fun and young team. Everyone is looking forward to it."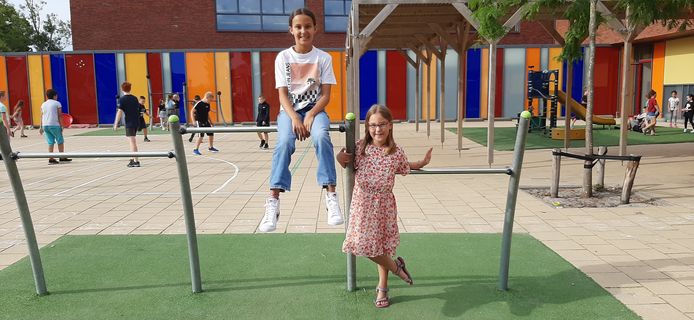 Free unlimited access to Showbytes? There can!
Log in or create an account and don't miss any of the stars.

Yes, I want free unlimited access