Still produced, frequently copied and highly valued: the design of the Danish designer-architect Arne Jacobsen remains timeless. But his legacy extends far beyond a few chairs. From a summer theatre, a gas station, a bank building to a hotel: this is Arne Jacobsen's Copenhagen.
As early as the beginning of the last century, children apparently already dared to dab walls. The story goes that little Arne Jacobsen took care of the Victorian wallpaper in his bedroom. Not with children's drawings; the boy decided to paint over the excess with white paint. Simplicity and calm, that was what he wanted. Today there was nothing remarkable, but back then white walls were unique. A preview of his visionary look? The fact is that the architect and designer was ahead of his time throughout his career.
FROM A TO Z
From complex realizations such as the SAS Royal Hotel to sleek, futuristic cutlery, Arne Jacobsen (1902-1971) is admired and recognized worldwide for his extensive, timeless work. This 'king of functionalism' left a recognizable mark on Danish design with his creations, and there are many things to see in his hometown of Copenhagen. However, he left the biggest mark on history with his interior design, says Henrik-Lund Larsen, archivist and expert in Danish design: "It is amazing how much Arne Jacobsen determined the details to the extreme. You can see a good example of this at the town hall in Rudersdal: Absolutely everything, including fittings, chairs, letters, clock and handles, is specially designed by Jacobsen. Thereby he was unique. Unlike his contemporaries, a building was often only a starting point for him to work out an impressive overall design from there."
FUNCTIONALIST, MODERNIST, BRUTALIST
Just the list of iconic classics that Arne Jacobsen designed especially for the SAS Royal Hotel is astonishing: the Swan, the Egg, the Drop, the Pot and the Giraffe Chair, the Series 3300 sofa, the AJ lamp, the Royal lamp, and the list is not even complete . These and other designs are still being produced, widely copied and highly prized, despite aging. "Today, many designs are being reinvented, but Arne Jacobsen's designs are so strong that they do not require adaptation to the current zeitgeist", says Els Van Hoorebeeck, Head of Design at &Tradition. The Danish design brand, based on designs by Verner Panton, Jørn Utzon and also Arne Jacobsen, recently released its nearly hundred-year-old Bellevue lamp with a pointed lampshade and flex arm. "When a design defines a new way of using it, it becomes timeless and still modern, even a hundred years later."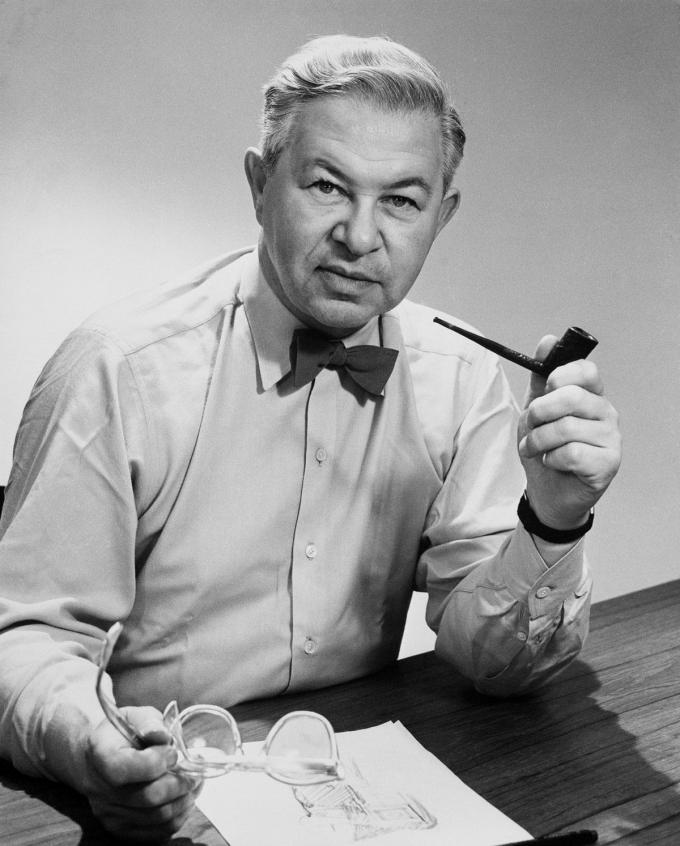 His furniture finds a place in homes and offices around the world, which is why it is so interesting to walk through his hometown and discover which special buildings form the basis of the popular designs. Henrik-Lund Larsen: "Jacobsen was a functionalist for the white houses in Bellavista, a modernist for the SAS Royal Hotel and he ended up as a brutalist at the National Bank. Had he lived longer, the man would undoubtedly also have been a postmodernist."
9 x ARNE JACOBSEN I AND OMKÖBENHAVN
1. CHARLOTTENLUND (1929)
Arne Jacobsen's self-designed home in northern Copenhagen. The modern white facade looks sleek but is in fact a traditional brick design. In his basement he installed his studio, the place where the most iconic designs took shape. The house is currently a private residence and can only be viewed by appointment. For more information about the home and agreements:
realdaniabyogbygklubben.dk
Gotfred Rodes Vej 2
2. Bellavista Housing Estate (1934)
This residential area with its smooth, whitewashed facades is called 'Arne Jacobsen's White City'. Honest, functional architecture with flat roofs, rounded corners and large windows, designed in such a way that each residential unit had maximum light and sea views.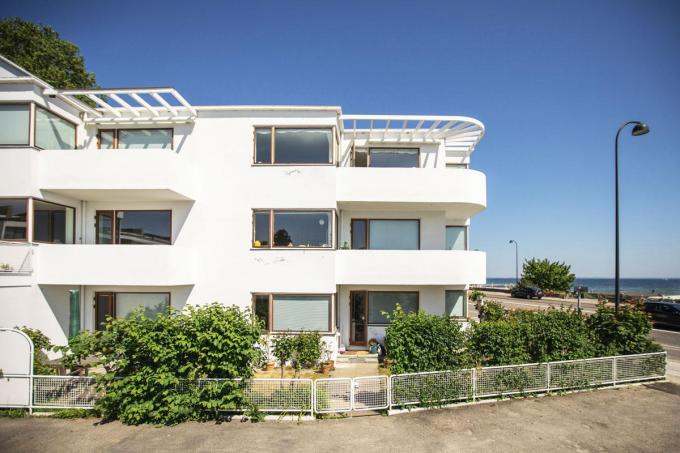 Bellavista Housing Estate is part of the ambitious metamorphosis of Klampenborg, a seaside resort where Jacobsen strove to bring nature closer to people. The design also includes Bellevue Theatre, Bellevue Gas Station and Bellevue Beach.
Strandvejen 419
3. Bellevue Theater (1936)
One of the most important designs from Arne Jacobsen's early work. The summer theater was designed down to the smallest detail, something he would do more often from then on. In the auditorium, Jacobsen drew in the coastal environment. You can see the wave movement in the theater seats, the walls also got distinctive blue-beige stripes that connect the space with the striped lifeguard towers on the beach. Extra unique: the roof theater can be opened. This was a must for Arne Jacobsen to let in the scent of the surrounding beach and forest.
Strandvejen 451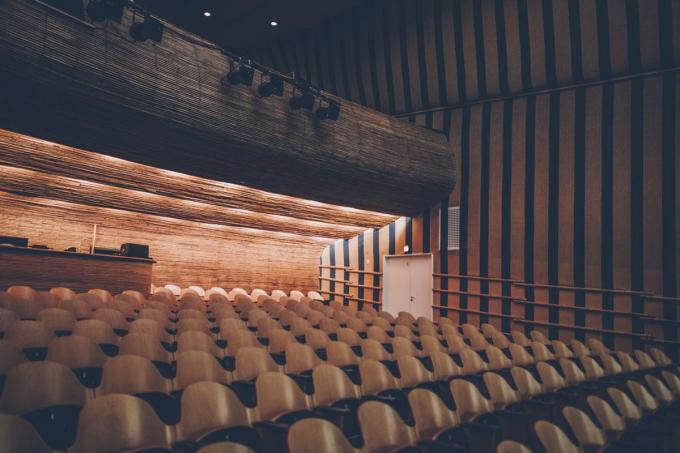 4. Bellevue Gas Station (1937)
In this futuristic gas station with white tiles, you can still fill up your tank. Only the fuel pumps are new, the rest of this particular work remained unchanged. Soon nicknamed Paddehatten (mushroom), a reference to the elliptical roof. Although the design was supposed to be a standard model, unfortunately it was with this version.
Coast road 24
5. Bellevue Beach (1938)
One of the most popular beaches near Copenhagen: 700 meters of sandy beach with adjacent lawns and trees, and of course the iconic blue and white striped lifeguard towers as eye-catchers. Here, too, Jacobsen designed everything from the beach huts to the lifeguard uniform of the time.
Strandvejen 340
6. RUDERSDAL TOWN HALL (1942),
Rudersdal's cubist marble town hall was designed by Arne Jacobsen together with Flemming Lassen. This building was progressive for its time because it did not display traditional symbols of power, but simply a welcoming, open atmosphere. The tower, which at the time traditionally belonged to a town hall, was also deliberately left out. Despite the war years, it turned into a beautiful, coherent design, where the interior in particular showed an eye for well-thought-out details, high-quality natural materials and craftsmanship. This is a strong example of adaptation. The printed fabrics in the town hall were also designed by Jonna Møller, whom he later married.
Øverodvej 2, Holte
7. SAS ROYAL HOTEL (1960)
An indispensable gem: SAS Royal Hotel (now Radisson Collection Royal Hotel) determines the city's skyline. This minimalist design hotel is considered one of Arne Jacobsen's most important architectural works. It was Copenhagen's first skyscraper and in the sixties was used as a hotel and airport terminal for the airline SAS. Typical: the large glass parts reflect the clouds. The interior is also meticulously designed by Arne Jacobsen: in contrast to the sleek exterior, the elegance with an abundance of soft, organic shapes and warm colors stands out on the inside. Much of his work can still be seen in the hotel's main lobby: the Egg and Swan Chairs, designed especially for this space, as well as the bar, the lighting and its characteristic spiral staircase. Jacobsen's designs are also abundantly present elsewhere in the hotel. Booking a room here is therefore a must.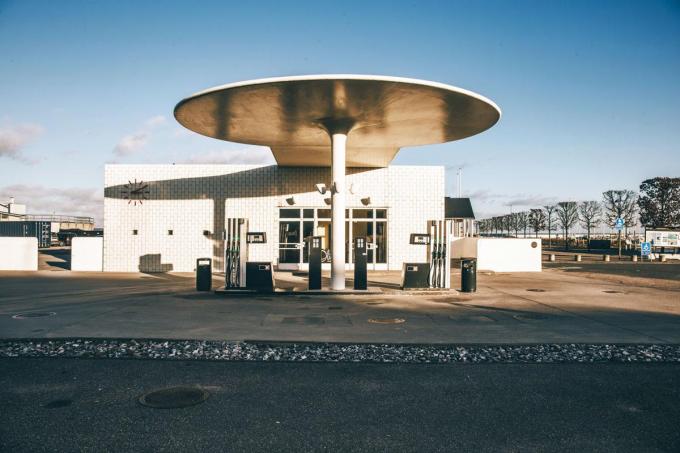 If you really want to fully immerse yourself in Arne Jacobsen, book Room 606, the only room at the Radisson Collection Royal Hotel that has remained untouched since its opening in July 1960. Here you live in a flashback to sixties Danish modernism with Jacobsen's designs.i blue-green tones and warm wenge wood. In addition to booking, you can also visit the room with a guide. For something a little more contemporary, book room 506, where Spanish designer Jaime Hayón shows his vision of his hero's work.
Hammerichsgade 1
8. DISSERTATION HOUSE (1937)
Modernist building on a historic site in Copenhagen. With this, Jacobsen took on the challenge of merging a new building with its historic setting. The six-story gray building and the green steel frame on the ground floor provide a subtle but elegant architecture.
Gammeltorv 6
9. NATIONAL BANKS (1971)
Arne Jacobsen's last major work: just before his death in 1971, the designer and architect saw the final phase of this modern, monumental bank building, including interior design and geometric garden design. The cubist marble columned walls illustrate the role of guardian of finance, inside there is the discreetly designed but huge six-storey marble open hall with an imposing glass and steel staircase.
Havnegade 5