The future has surprised me. What was decades later that I dreaded, but secretly also looked forward to, has suddenly become the present. My youngest child was the last of the four to leave the parental home. Six hundred cubic meters of emptiness oppresses me. I've been walking with my soul under my arm for weeks. No purpose, no meaning, no spirit; a deflated balloon that can no longer be inflated. I look in amazement at the sad woman I suddenly am. I didn't expect that.
Hundreds of times I have yet to curse my children, but I have certainly cursed them. If I was interrupted in the middle of writing a difficult paragraph because the last hour fell out and the son or daughter flopped into the armchair next to my desk to tell his or her story. When I lay awake because I still hadn't heard the sound of elders tripping on the attic stairs well after the taverns closed. When the youngest called, she had missed the last train and was staying with a friend I had never heard of.
Unexpected events, hospital visits, big and small worries: for 33 years, my work and my own wishes were often subordinated to what my large family asked of me. My time is coming, I cried when someone pointed out my self-effacing motherhood. Meanwhile, I found space in the cracks and crevices between all activities, had various jobs, then a coaching practice, wrote books, lectured and taught. How much time would I have if the youngest had gone too? The oeuvre I would write, the knowledge I would still acquire, the journeys I would undertake: the future was a sea full of beckoning perspective.
Now the time has come – and I suffer more than I ever imagined. My husband had a hard time with the departure of the first two, both boys. He didn't like it anymore, in a house with only women. Of course, the four of us found a new balance and again when our oldest daughter left and the youngest took up all the space in our spacious nest for another ten years. Now that she is living in rooms, my husband misses her, but the deep sadness I feel is strange to him.
I have worked part-time and mostly from home for 20 years. The emptiness is much more present for me than for my husband, who works full-time outside the home. My body hurts and my brain seems to be wrapped in the porridge I made for my toddlers when they were sick. As I study the pain, I become aware of a small voice that whispers that it is nonsense that I feel this way. That I should be happy for the extra time, that I should be happy to be with my husband, that I should find new activities or just work harder. Guilt mingles with my grief. I am in grief, but may not be mine.
And only now do I realize that I was under the assumption that the empty nest syndrome was a thing of the past. A phenomenon from the time when women were not in paid work and men hardly interfered in their children's education. Not one of my friends has stopped working after having children. I never asked them what it was like for them when their children left the house. Never did one of them tell if she suffered from it. Only now, when I ask one after the other, the stories come. "I thought it was terrible," says one. "I loved it," says another. "I just visit them often, which is always fun, but afterwards I'm also happy when I can concentrate on my own activities," says a third. "But I still miss them very often," she adds reluctantly.
Not one of my friends has stopped working after having children. I never asked them what it was like for them when their children left the house
It becomes clear to me that the mothers I talk to have all struggled to a greater or lesser extent to adjust to their emptier homes, but that the topic is not an easy one to discuss. After all, we are independent women who really do not only derive our raison d'être from motherhood.
In addition, my friends and I suffer from shame. "There are worse things," says the one who misses his children the most. "There is war, the climate crisis, the flow of refugees, there is so much to worry about. And then I sit and mourn the children who have left the house. While they are also very happy." I recognize what she is saying. I feel guilty that I am not satisfied with this new phase of life and I am ashamed of my sadness.
The empty nest syndrome still exists, I realize when I delve into it. And it makes perfect sense now that I think about it. As long as there are parents with children, those children will one day leave the parents. How they experience this will vary in time and culture, but the fact that it can be experienced as a difficult period is not surprising at all. Oddly enough, I thought I could skip the accompanying pain. Strange thing is that I have the feeling that I must not feel what I feel. I google empty nest syndrome and find a lot of stereotypical descriptions of women falling into a hole when the kids are out of the house and the bleak feelings that come with it.
These publications invariably seem to be about women, especially women without a paying job. What time do we live in? After recent conversations with my friends, I have concluded that I am not the only woman who, although working and financially independent, still feels a huge void now that her children have moved away from home. Psychologists classify the syndrome as depressive disorders when the sadness and sadness are still present after about a year. For a year, it's apparently completely normal to feel confused and sad. Why do we talk so little about it?
My husband feels the loss, but the joy of the regained time dominates
The books I encounter confirm the pressure I feel to look ahead, to fill my time with new pursuits. Making room for the grief that for the time being prevents the filling of the future is not discussed. Emphasis is placed on how the relationship between the parents changes when the children are out of the house, threats and opportunities are written about, but in my opinion too little attention is paid to the grief the children leave behind. And certainly not to the grief of fathers. Don't men miss their children? My husband feels the loss, but the joy of the regained time dominates. It makes me feel guilty even more and makes me feel alone in my grief.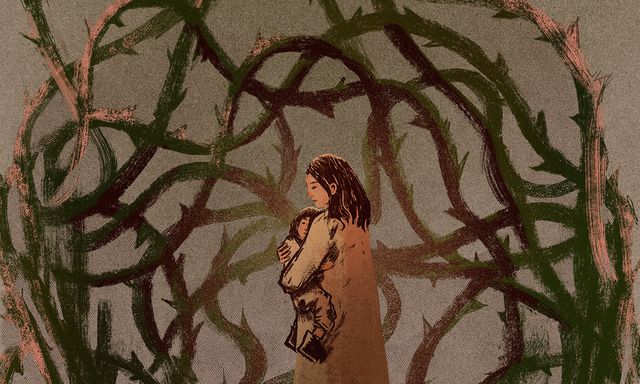 Also read from Josha Zwaan: The girl who was born scared turned out to be autistic

I think of the growing group of dads in the schoolyard who attend parents' evenings and cook for Sinterklaas. Listening to my children in their thirties, the pattern of two parents working four days a week is becoming more and more common, especially among highly educated couples. During my search for publications, I only find a few sentences about men and the empty nest syndrome in one article. I wonder if, when the growing group of caring fathers see their children go, there will suddenly be an avalanche of publications about the emptiness that those fathers experience. Or will the law that men and men's issues get more attention no longer apply at that time?
I pour out my heart to a friend who has undertaken much of the education of his children. And ask him how it was for him when they moved into rooms. "I was very upset," he says. "The meals, the buzz, the unexpected, the fun – I missed them terribly. It took me a year and a half to find my way again." These are comforting words. Not only because I feel seen in my grief, but also because I foresee a future where men and women work and care. A future where greater equality in care will lead to a more shared experience of the transition from caring parenting for a life without children living at home, where we can mourn the empty nest together and celebrate together that the emptiness creates space for the next step and new experiences.
A version of this article also appeared in the newspaper on 11 October 2022