If houses could choose their own inhabitants, this well-preserved bourgeois home in Borgerhout would probably have chosen Margot Bertels. With her experience in interior architecture and monument care, she was the perfect person to renovate it without touching the old soul.
Some take years to find the right home, others – like Margot and Seb for example – get their dream home completely unexpectedly. The couple were in full preparation for a big wedding when they learned through friends that a late nineteenth-century town house was for sale near Zurenborg. Margot, who grew up in this neighborhood, could not contain her curiosity. "Seb and I didn't look at all yet. On the contrary: Our wedding would cost a lot, so the plan was to save some money first. But we quickly realized that we could not miss this opportunity." The previous owners were concerned about their house and hoped that the authenticity and certainly the mural would be preserved. Thanks to Margot's background, they could sell it with confidence. As an interior designer with a degree in Monument Care, Margot started six years ago at Renotec, a contractor that restores and renovates buildings, monuments and works of art using traditional knowledge and innovative techniques. "I was previously manager of the stonework, and now I am responsible for the interior restoration department together with a colleague," she says.
Respect for the design
Seb gave his new wife carte blanche – only a candy-pink ceiling was a no-go for him – and the design was ready a month after they bought the house. The previous owners continued to live there for just over a year until their own new building was ready and then the renovation could begin. Thanks to Margot's tight schedule, the renovation took no more than three weeks to build. She never intended to erase imperfections and pursue a new look. "If you want a modern interior, you shouldn't buy this kind of house," she says. Respect for the original design is an important principle in the world of restoration. "We check on plans and in archives how a building looked at the beginning of its existence, and then we try as much as possible to restore it to its original state. For example, in our living room and hallway there were ceramic tiles that were much newer than the house itself. Since such floors do not belong here, we have removed them and replaced them with herringbone parquet in the dining room and rouge royale tiles in the hallway. They were common at the time this house was built."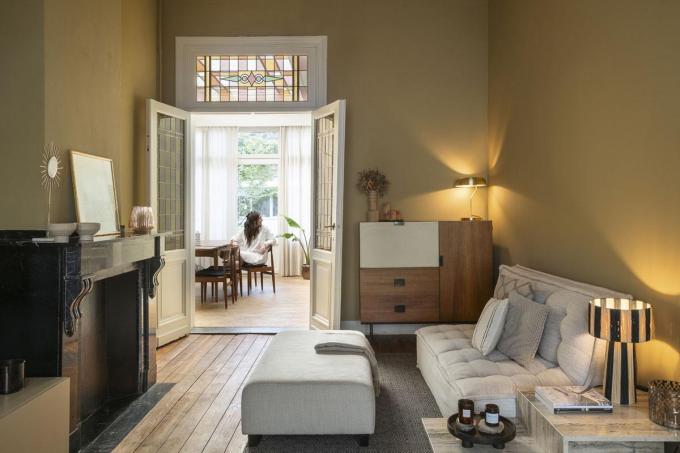 Not white, but moody
She engaged a specialist colleague to restore the three murals on the wall between the kitchen and the dining room. Armed with a small brush, he worked on it for a total of four days. "Where there were holes, the painting was reconstructed to the edge. It is important to first mix the right colors on a plate and to differentiate them during the painting process to get a realistic image." Connoisseurs can see at a glance that the paintings were realized at a different time and perhaps also by other painters, but they have one aspect in common: birds.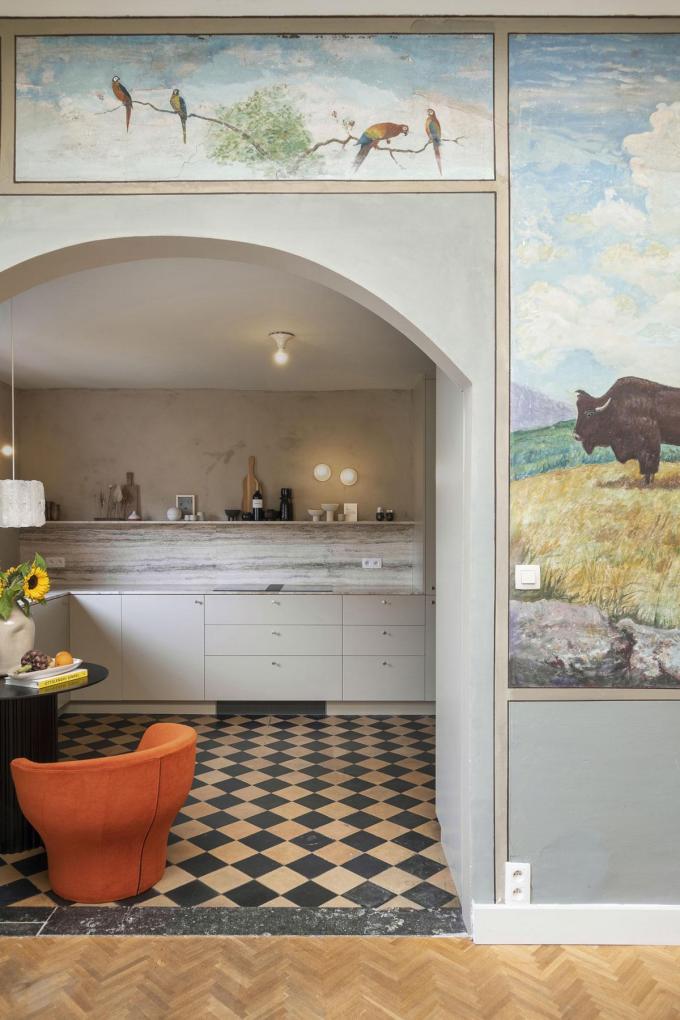 "It was a challenge to give the paintings the right balance with the other walls. I chose wallpaper in Japanese grass. Uniform in color but not in texture. It was a bit out of our budget, but it was worth it." It's striking how you go from one atmosphere to another because Margot has given each room its own color. For example, the light-filled drawing room has become sky blue, a nod to the birds, which not only appear in the murals, but also in the moldings and the stained glass window. In the TV room – which is difficult for the sun to reach – a dark and warm camel tone gives even more coziness, and the safety in the kitchen is emphasized with gray kale. "We could have replaced the small window in the kitchen with a large sliding window for more light, but then we would have lost the contrast to the dining room – which is blessed with a glass window in the ceiling. Contrasts are necessary for all elements to come into their own. If everything was painted white here, it had never been moody been as now."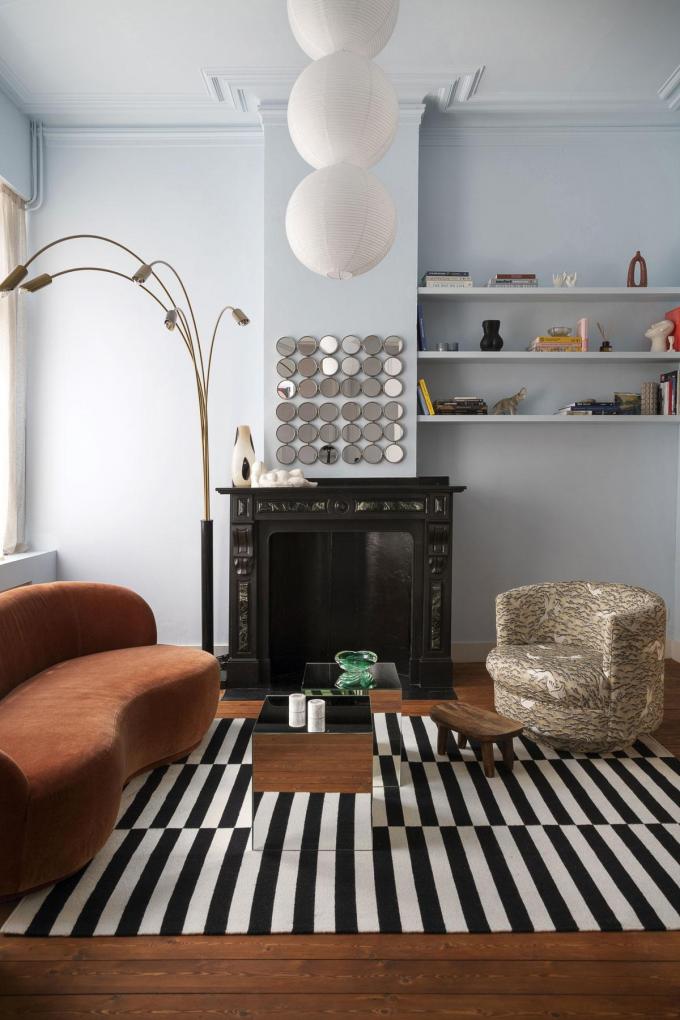 Something new here and there
The kitchen and bathroom have been completely renovated and well equipped with customization by the furniture expert. "These are the only rooms where I like to have the furniture incorporated, clean and seamless," says Margot. With natural stone, they both gave a little more impact. Come to an old building like this in love furniture and decoration, naturally to their full advantage. For example, Margot got old Pastoe cabinets from her grandparents, a vintage table and arc lamp from her father, and she likes to visit Christiaensen & Christiaensen and Nome Furniture. The Antwerp furniture upholsterer Bea Joppen is well represented here as well: She has made the two built-in sofas and an orange upholstered armchair. In addition, we also see goods from Ikea, Sofa Company, H&M, HKliving… or how a historic building could use something new here and there.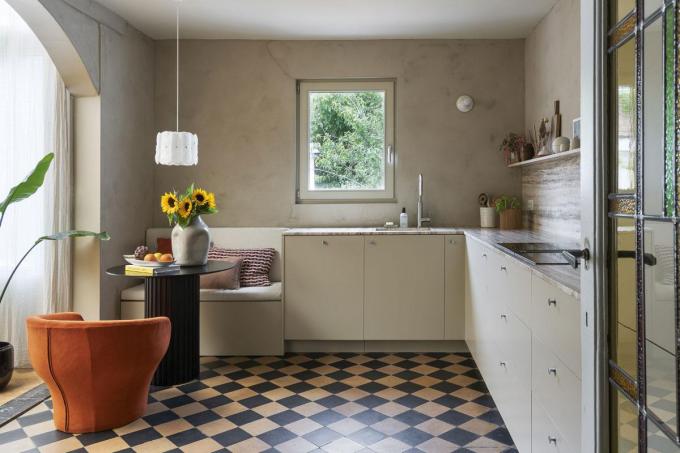 ID Margot Bertels (30)
Completed Masters in Interior Architecture and Monument Care, both at the University of Antwerp.
She started working at Renotec six years ago, and she also works as an interior designer as a part-time job for private individuals and companies.
Among other things, she has designed the Antwerp restaurant Soma.
Her work is characterized by a daring use of colors and eclectic material combinations.
Has a fondness for old buildings and applies his knowledge of history to contemporary interiors.
margotbertels.com