By the editors on 06-11-2022
EIBERGEN – Nahdie came up with the idea. The bicycle tunnel in Eibergen could use a little color. Culturije finally received the assignment from Berkelland municipality and that's how the artists Kim Froeling (Statement Walls) and Natasja Scharenborg (VanTastic design & Concept) came into the picture. Stefanie Kruizinga will talk to one of the artists, namely Natasja Scharenborg.
Bees theme
'Nahdie was clear about what she wanted, the tunnel had to be more accessible, friendlier. In addition, the tunnel will be part of a new hiking route in Eibergen that has a bee theme. It connects the center of Eibergen with Sports Park de Bijenkamp and Kruidenhof in Mallum. We started working with that information. And see the result here!'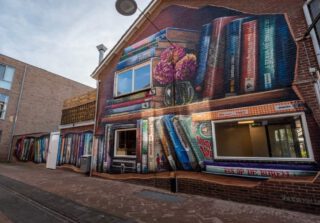 It looks beautiful. What is your background?
'I studied at the Minerva Art Academy in Groningen. I focus on street art. It is an art in itself. For example, I am the project manager for 'Streetart Oost Gelre. I have been the project manager for all murals in Lichtenvoorde since 2015. There are now also two large ones in Groenlo. In addition to my tasks in the creative sector, I am a project manager and also like to paint walls myself. .' I recently put together a free route booklet along all the colorful walls of Lichtenvoorde together with Meike Prollius from 'Achterhoek Tourism'. For example, next Sunday (November 6 at 15:00 in Lichtenvoorde) the beautiful giant painting of the library cabinet will be officially opened.'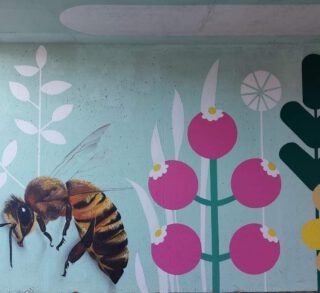 Back to the bicycle tunnel in Eibergen..
'Yes, we have to work on this together with Kim Froeling. We really tried to incorporate all of Nahdie's tips and wishes. The flowers and the bees. We have also used cheerful and bright colours. Kim and I have worked together before. For example, we could work together on the project at Social Cultural Center Den Diek. It was also a great project. I am very happy that Eibergen has taken up this project and used street art to make Eibergen just a little bit more beautiful. I hope everyone enjoys it, because that's the goal in the end.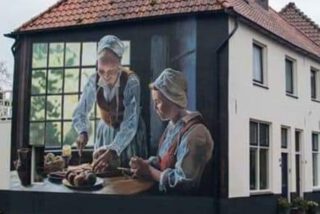 The history of street art. (Note edited)
The world is one big playground! You have to pay for a museum and often everything is behind glass and you are not allowed or can touch anything. How different it is with street art, where the street is the canvas. In Berkelland/Lochem, we are almost all familiar with the beautiful painting on the Silo in Lochem (Linked – Telmo Miel (Part of Silo Art Tour Achterhoek) But you sometimes also see a lot of smaller works of art on lampposts, electrical boxes, drain pipes and wall pieces . Graffiti originated in New York in the 1960s. It started with public autographs, where teenagers left their name and street number on train cars. In the 1980s, street artists became aware that they have become part of an art movement, namely "Street Art Critics do not agree with this and dismiss this art form as vandalism.However, this art form continues to grow and can be safely called very influential in the art movements of New York, Paris, Los Angeles, Berlin, Tokyo and Amsterdam, you may know him , Banksy, with his often politically critical paintings, he has become a figurehead for street art from around the world.ld.
By Stefanie Kruizinga
Copyright © 2022 NUB
Realization: Niels Voortman – Computer-Parts.NL – Eibergen
Frats by Marcel Stroet
Frats what a doo
NEEDE – The price of gas and electricity is collapsing. What leu can not afford to pay, what a bad situation. He got all sorts of tips…..
Read more "
Fritz camels
NEEDE – Dreuge, Dreuge, Dreuge When I wrote this, we had just figured we'd have a shower during the marmalade market. There wasn't that much and stuff like that…..
Read more "
Freaks upside down
NEEDE – On my daily trip from Nee noar Beltrum, I sucked from one day to the next all kinds of flags hanging on my head. Listen to your ears……
Read more "
Fratsen Colors a wall
NEEDE – No we were a bit broken recently, here and of moss which tiles had to be worn up. Ok a piece of wall moss renewed w……
Read more "
NUB TV
Berkelland's first Parkinson's café opens in Neede

NEEDE – A special 'café' is organized every month in the meeting room Het Filter in the Kronenkamp Nature Park in Neede for people with Parkinson's disease, their partners and other interested parties. Visitors can share their experiences every second Thursday of the month, but togetherness is also very important "It is easier to exchange experiences if you talk to someone who has experienced it themselves", says Johan Lindner, one of the visitors. "Human contact is more fun than getting things off the internet." One of the motives for organizing the café is to make the disease a topic of discussion. "The threshold is much lower if you have a café and you can talk together," says initiator Herman Leusink. "The informal carers, the people who have a partner with Parkinson's disease, can also consult with each other, and you can talk even more easily than with a doctor or a nurse."
Another important goal is to raise awareness of the disease and its specific symptoms. "Parkinson's is a brain disease in which certain cells in the brain die," explains Leusink. "These cells ensure that a substance is made which sends the message that occurs in the brain to the rest of the body." For Linder, it causes different symptoms: "I walk a little stiffly, I get tired more quickly, but the biggest problem is the cognitive problems. In the form of not being able to change gears and being able to perform difficult tasks with difficulty."
First in Berkelland
There are already Parkinson's cafes in several places in the Netherlands, but it was still missing in the Berkelland area. "We first consulted with the Parkinson's nurse from the hospital in Winterswijk, who said there was a lot of interest in opening a cafe," said the promoter. "We already have 36 entries, for the first time I think it's very good."
Tai Chi
The café was created with support from Berkelland municipality. The organization has enough inspiration to organize activities. "Once a pharmacist comes, then an occupational therapist. We can do Tai chi (Chinese movement exercises ed.) or yoga, maybe walking with Parkinson's. We try all kinds of things to make activities."