Your author was allowed to experience a piece of the development of the Arpeggio Acoustic Opus I and Opus II loudspeakers. Listening was therefore carried out at different times in this process. Jeroen Tidström of Arpeggio Acoustic continued to make improvements, and during the recent Dutch audio event, the general public could get to know these further developed models for the first time (or again). It led to many enthusiastic reactions.
Modern speakers are developed using software. In it, you specify exactly which properties the speaker must have. The program then delivers the design and you can immediately control the production process from the computer. Design has become a piece of cake. You have enormous control over what a speaker should do according to the designer. It also explains why so many, even inexpensive, speakers today deliver excellent performance.
Some loudspeaker builders state that, in addition to the measurements, such a model is also listened to, although Magico says that what comes out of the computer fully meets the requirements. At least it's contrary to the way things used to be. At worst, it was a process of trial & error. One who spent a whole day swapping tweeters and capacitors looking for a good sound. Half a forest was also often felled to make prototypes.

Real innovation and oversupply
Jeroen Tidström from Arpeggio Acoustic belongs to the classic flow of designers, but he used software for the various calculations. Two loudspeakers have now been developed: Opus I and Opus II. Your reviewer enters the mode of utter surprise every time there's another press release reporting the appearance of a new speaker brand, someone building cables again, or the unannounced arrival of a new record player manufacturer. The market is bursting at the seams for hi-fi products. What else should you add? If asked, the answer is usually that the person in question is unhappy with 'everything' that is already there and thinks they can do much better. Well, maybe time to listen to the often superior products already out there? Do you still dare to say you can do better? A better record player? Maybe listen to an EMT 930? The very best amplifiers, phono stages and turntables were already being built in the fifties to the eighties. Here and there, of course, some exceptional modern products, which often score slightly better on details. But sometimes there is just a commercial motive. Cables cost three times nothing in production, but you can drive an Aston Martin from the margin. Others find it exciting to build something, maybe sell it and dream of an established brand. Correct. Designing and building your own amplifier gives immense satisfaction. Whatever you do, you always sell a few copies to family and friends.

DIY builders
When the editor-in-chief asked to listen to Jeroen's self-built speakers, all lights turned red, and the heart rate and other measurements of physiological parameters reached irresponsible values. After all, your author has had disastrous experiences with people who build speakers themselves, although occasionally there are also some very good ones. A book has now been written about it. The phone rang several times. To come and listen to the self-built speakers. Of course they really are better than Magico, play TAD out of the stadium and you've never heard anything like it. The latter is absolutely true, but not in the way the builder intended. It is therefore the standard entry for the self-builder.
Then you sit there. Within twenty seconds, you will hear ten basic errors. And how do you like it, asks the proud builder, waiting for gold and the national anthem? So when you give feedback, so to speak, you come into contact with something called 'ego'. Are you honest, or do you choose diplomatically laced and slightly vague expressions? The latter is often better for a continued peaceful and healthy life. Some are professionals and so it is possible to have a discussion and exchange well-founded views. It then contributes to improvements of such a product. Such a way of working is possible with Jeroen.
Feedback
During the first listening session of Jeroen's Opus I system, these loudspeakers were in prototype form, the better power cable for the listening room was not yet ready and something still needed to be done with the acoustics and control. A life-size portrait of Brahms hung between the speakers on the back wall. Jeroen's favorite and also admired by your author. But more for the music than for the bizarre influence this portrait had on the acoustics. Before comments on this and feedback on the sound performance of Opus I, it was quickly assessed whether Jeroen is of the gymnastics type and could possibly hit harder than your author.Taking the bet, it was started with the suggestion that Brahms had better leave the field. Terms such as 'the cycle' and 'backyard' accompanied this feedback, to offer a somewhat ethical alternative to Brahms.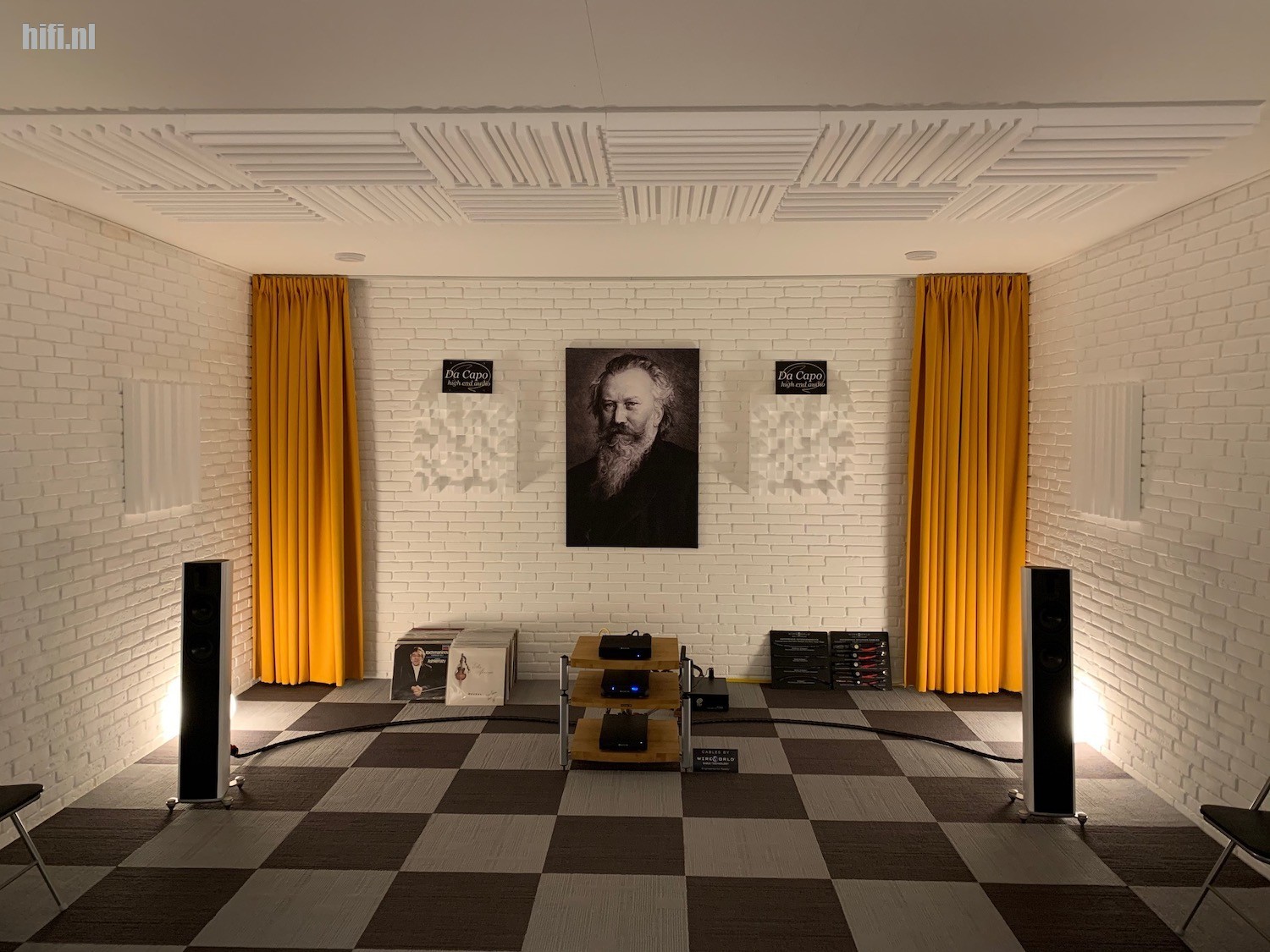 Note: Brahms is shown in this image, but not the speakers discussed here
You would never have read this piece if Jeroen had not been very accommodating. Brahms thus blew the retreat and the acoustics were significantly improved. It became clear that Jeroen is extremely open to comments and suggestions for improvement. In such a moment it becomes fun and constructive. You then think together about the reasons for these observations and what could happen next. So Brahms is gone, your reviewer is gone and Jeroen is at work. But with regular updates on the progress.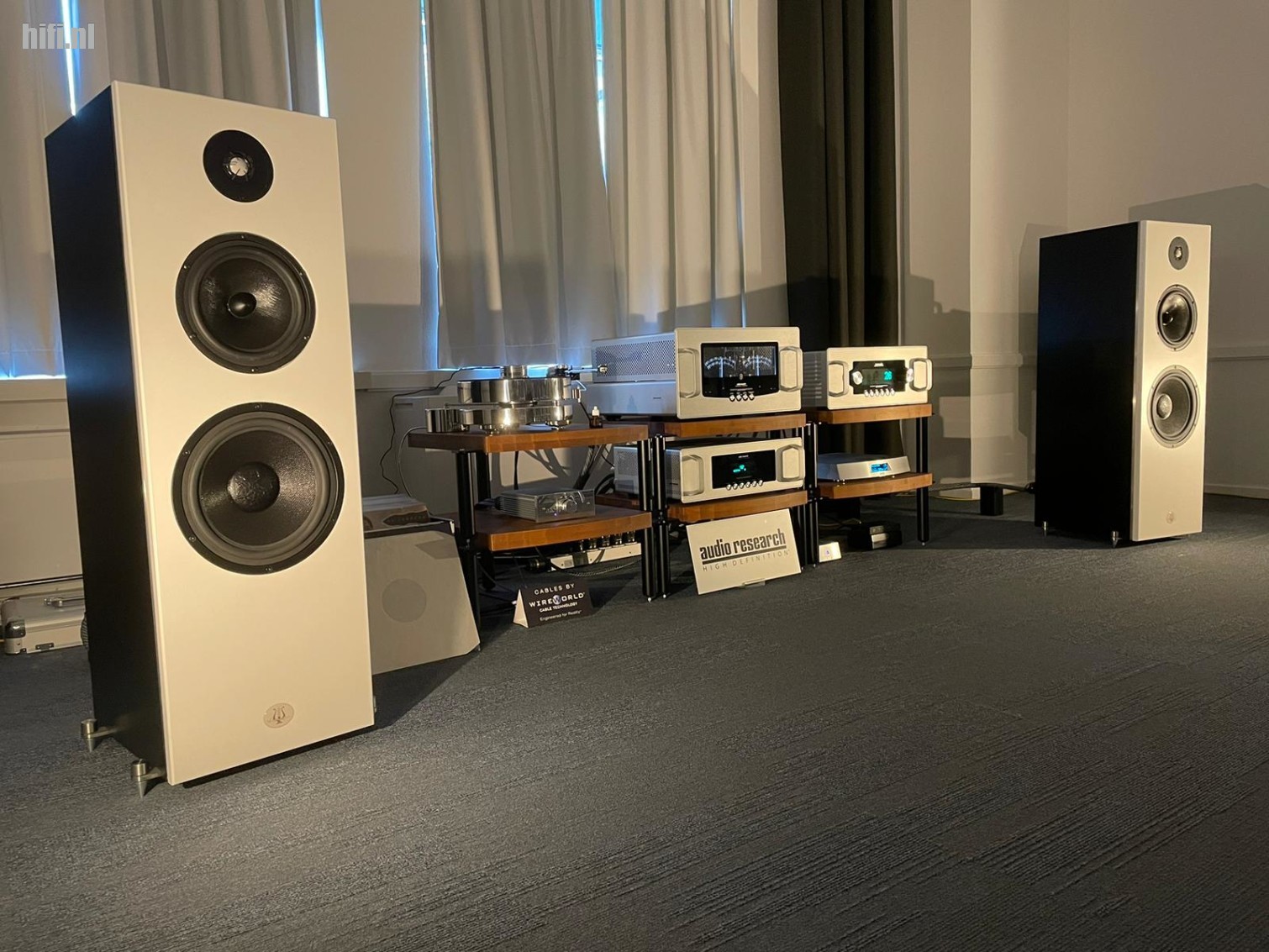 DAE Skilled
Several listening sessions followed. It is now creating a subscription. But Opus I made rapid progress. The result was on the latest DAE. Such a show is a bit tricky for any exhibitor. The acoustics and the electricity grid in Veldhoven are of course a grateful excuse, but the forced purchases, with yourself as the importer, also play a role.
The importer then has cable A, speaker B and amplifier C. To be credible, you must demonstrate with your own equipment. Sometimes it turns out that the three products really don't match. However, Veldhoven also offered a number of sets this year that performed extremely well. What stood out was the very nice, cozy and luxurious decoration of many stands.
Also read our full report on Dutch Audio Event 2022
Think ahead
Opus I was enthusiastically received during DAE. Jeroen attracts many customers from home and abroad, also in his own store. The undersigned also listened briefly during the Dutch Audio Event and a week later to the new Opus 2 in Jeroen's listening room. They are both speakers that sound neutral and present a great soundstage. Absolutely no reproducer with 'sound', but suitable for serious listening to music. Jeroen's customers are real music lovers who often make valuable suggestions and are happy to discuss sound quality.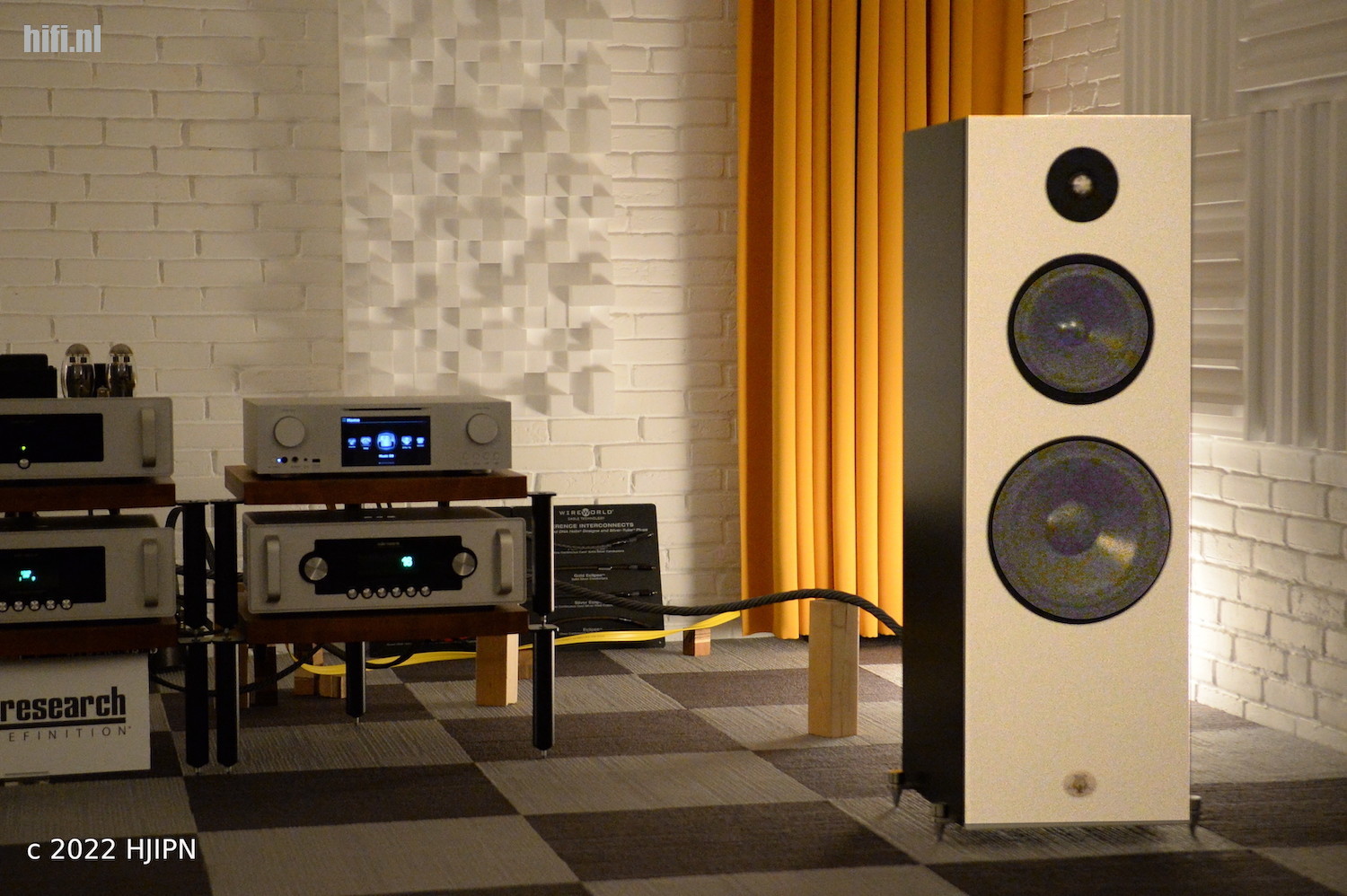 Jeroen takes all this into account in his search for the perfect sound. In addition to finding the perfect match and further customizing drivers and filters, Jeroen is already thinking about the future. An Opus I with an even higher quality filter, use of other cabinet materials, possibly including plastic and perhaps an even more beautiful design. Plastic naturally gives much more flexibility in the design.

Marketing
Jeroen liked the adventure during DAE. It was often commented that the sound was significantly better than the year before. So we worked hard on that. Jeroen finds the presence at such a show increasingly important. It is true. It's amazing that there are still importers and manufacturers who barely advertise and are hard to find at shows and/or online. Sometimes there is a good product. Only no one in the world knows. If you are not online, hardly advertise, you do not participate in the dealer exhibitions in Benelux and DAE, and you are not at the High End in Munich, then you do not exist for the consumer.
It's also amazing that the audio world hardly takes advantage of the influencer role that reviewers or others can have. In Japan, a brand is often linked to a reviewer. But hey, it's a different culture. In any case, Jeroen has discovered the power of public exposure.
Short listening impression
Both Opus models are closed three-way systems. The Opus I comes with a ceramic tweeter and the Opus II has a soft dome. The closed character gives a nice flowing and clean low. Opus I, the largest model, goes very deep. Both speakers create a wide and deep soundstage. The dynamics and detailing are very good. It has been listened to a number of times in different locations with different amplifiers and additional controls. Previously with vinyl and CD. Later with streaming.
Both speakers show the differences between all these media very clearly. An advantage of using dome tweeters, with wide horizontal dispersion, is that the sound image remains stable from any listening position in the room.
Epilogue
Jeroen has built two excellent speakers during a long, educational and exciting learning process, which is intended for the real music lover. Make use of all kinds of feedback from customers, show visitors and other passers-by. It's smart. The secret to successful entrepreneurship is to surround yourself with people who are better than you. This way you can take action. This has resulted in speakers that sound as honest as possible. They are not speakers designed for effect. Those looking for outside the box and brands should contact Da Capo High End Audio.
Arpeggio acoustic opus
Opus I | 13,950 euros each
Opus II | 5,950 euros each
Da Capo high-end sound