On November 21, the city of Mechelen will open the brand new Parking Keerdok. Although the project by developers Mont-Real and Kairos, pioneers in transforming abandoned neighborhoods into valuable, attractive and sustainable living environments, is much more than that. The realization of Parking Keerdok heralds the start of a large-scale transformation of the area around Keerdok into a busy, new city quarter. Built for the future and an example of sustainable urban development on a European scale.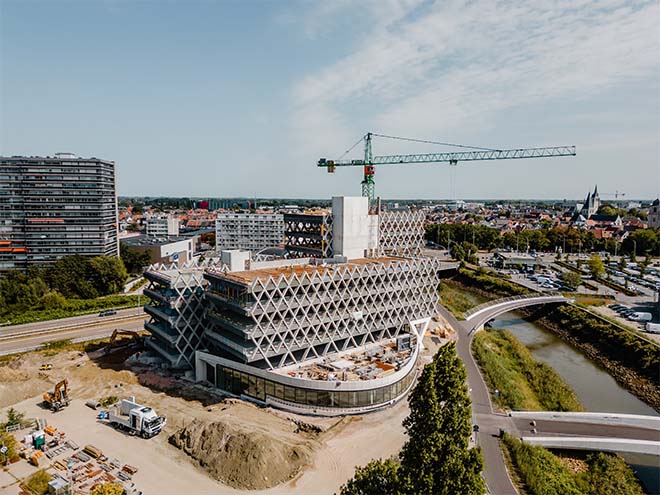 Parking Keerdok, a design by POLO Architects-Archipelago, is an architectural masterpiece and an important new landmark for the city of Mechelen. Sustainable throughout, because the building is designed in such a way that it can easily switch to more or less parking in the future, thus responding to developments in mobility, such as car sharing. The floors in Parking Keerdok can change their function without major renovations by simply sliding work and/or residential units between them.
The construction of Parking Keerdok, with the characteristic concrete crosses, was a meticulous job, says Wim Straetmans, CEO of developer Kairos: "The facade grid not only looks beautiful, but supports the entire building, which is ground-breaking. The parking building is one large column-free span with extra free height and can therefore easily be reused for offices, retail, businesses or even housing."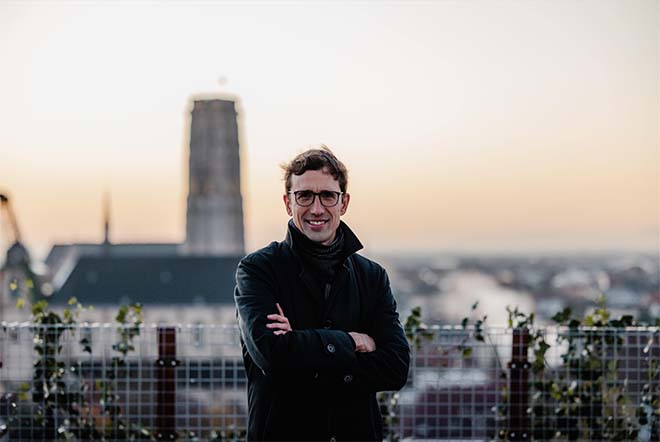 Wim Straetmans, CEO Kairos
The offices on the top two floors of Parking Keerdok are intended to complement two 'ordinary' parking levels. "These are box-in-box insulated volumes in wood and glass that are set up within the larger shell," adds Wim Straetmans.
100% renewable energy
Parking Keerdok is equipped with a solar panel roof with a capacity of approximately 170 kWp, enough to fully supply itself with renewable energy.
More than half of the electricity production goes to the charging infrastructure. The rest for the offices and the supermarket in the building. They are not connected to the gas network, but get their heat from the ground using geothermal energy. With support from Europe (ACCESS, the North Sea Region programme), Keerdok will become a model for charging infrastructure and energy management at European level.
Multifunctional
In addition to 500 parking spaces and charging stations for electric cars, Parking Keerdok also contains a spacious, covered bicycle shed with charging points for electric bicycles, a neighborhood supermarket and offices. On the roof you will find a city terrace with trees and a beautiful view of Mechelen. Two floors below, there is also an event square for public activities.
"Keerdok is much more than the classic peripheral car park. The significance of this building transcends the neighborhood level. It creates added value for the entire city and focuses on people and quality of life. It is the social motivation that we consistently implement in all our projects. We develop green areas with experiential value that serve and are supported by the neighbourhood," says Bart Langens, managing director of Mont-Real.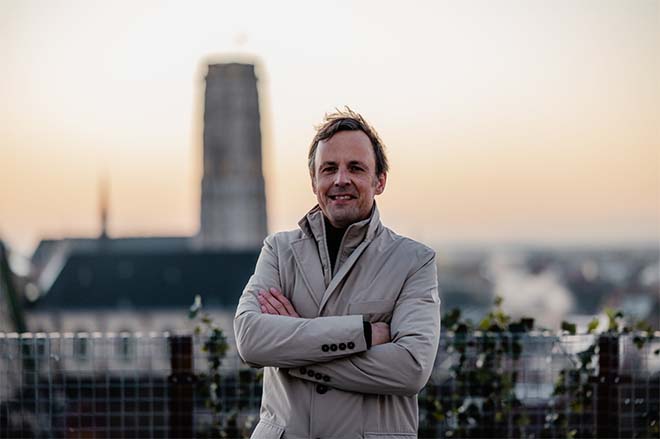 Bart Langens, managing director Mont-Real
Smart mobility hub
Parking Keerdok together with its surroundings form a smart mobility hub where residents and visitors can go 24/7. In addition, the car park will become a hotspot for electric charging and shared cars. But the main emphasis is on getting around on foot, by bike or by bus. The public space around the car park is completely traffic-free. You can easily switch to a bicycle or shared bicycle from Blue-bike. And in the car park's lockers, you can charge your bicycle battery with power from the solar panels on the roof. From the parking building, you can cycle or walk quickly and safely to the historic center of Mechelen, 750 meters away, via the new cycle and pedestrian bridge.
Master plan
Parking Keerdok is the first project to be delivered within the Keerdok master plan. In the coming years, this site will develop into a new, sustainable urban quarter with approximately 550 homes, a lively central meeting place (Rode Kruisplein) with catering businesses, renovated quays and a city park with a mini forest.
Greet Geypen, councilor for urban development in Mechelen: "With the Keerdok project, the city is strongly committed to a smooth connection between the Keerdok car park, surrounding neighborhoods and the city centre. Partly with the support of the Flemish government, a strong effort has already been made for this, and in the future there will be further focus on infrastructural initiatives."
In March 2023, Mont-Real – Kairos will start the construction of a new residential building, Dok Mechelen.
Also read: