nearSanne Verboom (34) and good friend Julius Geleijnse (49) create the online children's series Onder de Rainbow. The two want to introduce children to everyday themes such as love, friendship and identity in a relaxed way. Sanne says: "I want to make everything negotiable."
"We deal with the topics briefly and lightheartedly. Humor is an important factor in this. We want to show children all the possibilities and expand their horizons at an early age. In this way, they learn that nothing is crazy or strange and that their situation is 'normal'."
Children from Arnhem participate
In each episode of Under the Rainbow, presenter Sanne and two dolls, Meneertje T and Juffie Wauw, played by Julius, deal with a different theme. In addition, Sanne tells a story with self-made drawings. In the episode Cloud Wisdom, a child from Arnhem speaks. "Children want to be part of the series," says Sanne. "In Cloud Wisdom they share their view of the world and I find it interesting every time what they have to say."
A flap and a nice doll
Julius talks about the two characters he plays with dolls. "Mister T is a flapper and a bit stupid, while Miss Wow is very nice and rational. The two are opposites of each other. We quickly noticed that children are fascinated by the dolls." Sanne continues: "It was quite a job to get them done. I knocked on the door of the developer of the dolls from, among others, Huisje Boompje Beestje and Otje. In the end, it took two months before Mister T and Juffie Wauw were ready."
The text continues below the image >
Bringing dolls to life
The idea for the series arose during the first lockdown. Sanne: "I've wanted to make something for children for a long time, and I don't like sitting still. Therefore, I decided to translate my ideas into something concrete. I wanted the series to look professional right away, so I enlisted the help of friends. I wanted Julius to bring the puppets to life."
A big job
"Because there are only two of us, recording the episodes is a long process," continues Sanne. Julius adds, "It often takes us all day to shoot a ten-minute episode." Sanne says that this is because there is no director who checks whether everything is going well during the filming. "We can only see afterwards whether the recording was successful."
The text continues below the image >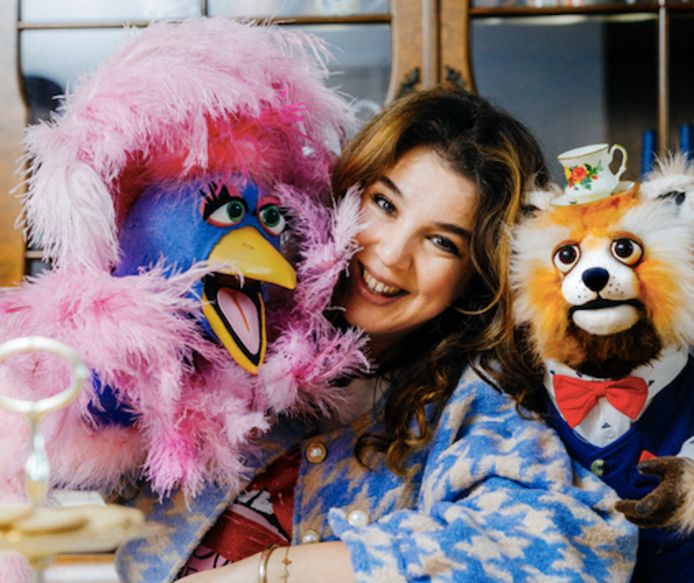 Reaching out to parents
Sanne and Julius hope that parents are excited about the series and show the episodes to their children. Sanne: "Children can watch the episodes alone, but they can also watch them together with their parents. That way they can talk to each other about specific topics."
For everyone and no taboos
"Why the name Under the Rainbow? The show's name means it's for every kid. The rainbow flag is a symbol of the LGBTQ+ community, and I interpret that to mean that everyone is welcome. Everyone can watch the episodes and no topic is taboo."
Collaboration with Mayor Marcouch
Season two has now ended and preparations for season three have begun. Sanne: "For next season, we would like to visit people who do something beautiful or important. By visiting with the dolls, we hope to translate their message into one that is aimed at children. We asked Mayor Marcouch about the series and he was immediately excited. At least we hope to be able to visit him."
Under the Rainbow can be viewed for free on YouTube. The episodes are ten minutes each. Sanne is a trained filmmaker and Julius is a lighting and sound technician, they make the episodes together. Are you curious about how it looks at Sanne's home? indebuurt already looked into her.
Free unlimited access to Showbytes? There can!
Log in or create an account and don't miss a thing of the stars.

Yes, I want free unlimited access