Everyone who has their hands free helps out in the morning rush hour at Drostenburg. At ten thirty the school's sliding doors open. There is a constant flow of vans and parents with children. The 'loose runners' wear safety vests and help students to their classrooms. One child has to transfer to another wheelchair at school, another cannot unfold the walker, the group 1 girl's backpack has to be hung over her electric wheelchair. There is always someone at the elevator to make sure everything runs smoothly. It is striking that the children, without exception, come to school happy and smiling. Whoever can, hurry in.
Drostenburg is a – not knowingly – hidden place in the city, where 180 people work together to give 200 children aged four to eighteen the best education and care. The school in Zuidoost has students who all have a physical, multiple disability or a chronic illness, and who cannot attend classes in a regular school.
They come from the region: from Weesp to Halfweg and from Abcoude to Purmerend. The education and care at the school is unique. Reade provides child rehabilitation during school hours, and Happy2Move is specialized after-school and holiday care at the school itself. Hot food is also offered to relieve the families. There are up to six full-time Cordaan nurses. Some children are catheterized, tube-fed, monitored for severe diabetes or asthma, or given medication to be administered by a nurse. "Everything you encounter at Emma Children's Hospital, you also encounter here," says director Jack Deen (67).
It is complex, acknowledge the three board members at the school. "We want children to get the best possible education, to be challenged and at the same time they need care. It is a question of ongoing consultation with each other and balancing how we can find the right balance for the child with education time and care," says Deen. "Everything in this school is specifically tailored to that child."
Grief

The school is a product of four Amsterdam schools for children with a physical, multiple disability or a chronic illness. "In the past, you had a new type of school for everyone," says Deen. The Act on Appropriate Education has now been introduced. Children with 'only' wheelchairs must be able to go to school on the corner. Little by little, the demand for special education therefore decreased. Ten years ago the Mytyl School, the Noteboom School, the Tyltyl School and the Coronel School – all special education schools – merged under the leadership of Deen tot Drostenburg.
Parents also receive care from the school, where two social workers also work. There is tension between the parents' hopes and expectations and the staff's professional view.
"When parents come to this school, they are sometimes in a grieving process. They have to say goodbye to the fact that they are no longer in a school yard with other parents, that their child does not go to a regular school," says substitute Ingrid Tingen (52). "We respect their grief. It doesn't help to confront parents directly with reality. We move along and are also there for them," adds deputy Nance Willemse (62).
The school looks at what is possible for each individual child. Small, realistic steps, that's what Drostenburg is all about. Sometimes this means that a child can do paid work later. Sometimes that means learning to count to three or understanding a little more so that later in the day he can enjoy a picture book or stickers instead of watching TV all day. "Sometimes that's the highest attainable," says Deen.
Teacher shortage

The board members stress that they are proud of the school and their team. This school also suffers from a shortage of teachers. They have 17 percent hidden vacancies, which equates to a shortage of five teachers. This means that even in this target group, outsiders are forced to stand in front of the classroom. "We really do it together," says Willemse. "It's a puzzle every day. We have the advantage that we also have a teaching assistant in each class who we can trust, but it's not meant for a pedagogue to stand alone in front of a class."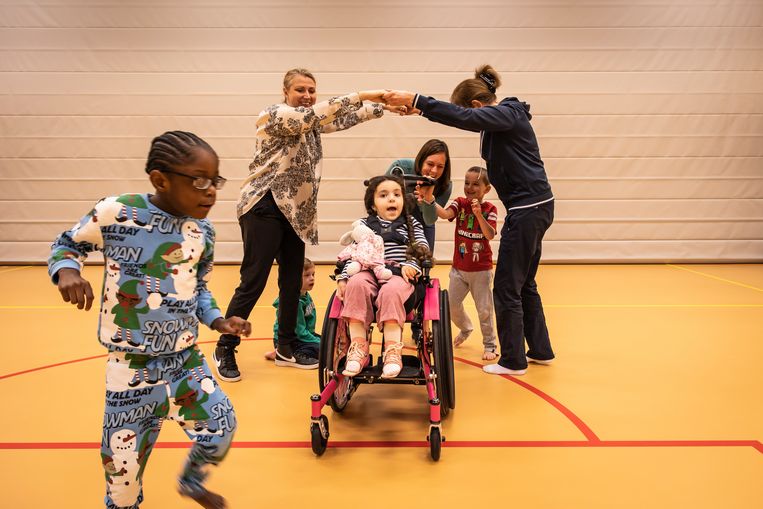 In one of the 23 classes the school has, the teacher is Carla de Weerdt (54) and Santusha Jameson (33). They go the picture book I want a diamond Read. "Everything here is tailor-made," says De Weerdt. There are seven children aged six to eight in class Blauw D. When she wants to make a circle, one of her students is just getting medicine through an IV. The nurse is on her knees in front of 7-year-old Göktürk so that he can 'just' participate.
Two students can only talk to a speech computer. A student must not lose weight, so he must first eat his fruit at the table. If everyone succeeds in getting everyone to pay attention to the teacher, each child gets a compliment. "Tops, Lieke." "Adam, you are so quiet, good." "Liam, what are you doing well?"
De Weerdt and Jameson have a folder with (medical) information for each child, but they don't need it. They know which disorder belongs to which child and how to approach them at their level. "Sometimes getting their attention is the best thing you can do," says De Weerdt. For at least five minutes, it's all about the mole sliding in the snow and discovering an icicle.
Then a child is brought in for physical therapy, the girl with autism wants to read another book, and an uninvited noise comes from a speech computer.
Drostenburg Got Talent

A school with sick children is also a school where children regularly die. There is extensive protocol for when that happens, and yet every death is different, Deen says. "Sometimes we say goodbye at school, sometimes we don't. Children of Moroccan background are not always buried in the Netherlands, so we cannot be present with the whole team. We want to be there for the family and for each other. We look at it per child, and you never get used to it. Really never."
What the director will never forget is the death of three children from the same family. "The children had the same genetic condition. I had a conversation with that father, and despite his loss and grief, he said, 'I've lost all my children, but I've got them.' I'll never forget that statement."
There are lots of memorable moments at school. The death of two children in three months made a deep impression on the team. When the leaders reminisce together, they note that the most memorable moments are the most intimate moments with children and their parents.
Not Máxima and Willem-Alexander's visit, but the annual talent show Drostenburg Got Talent. The thing: "There was a student who had been practicing for a year to take a few steps on stage without a walker. It's fantastic." Not the opening of the school by Princess Margriet. But the critical parents who had a hard time with their daughter going to Drostenburg. "They were critical and, in our opinion, had unrealistic expectations. After a few weeks they said, "This is an Olympic school." That is what we want to be for these families."